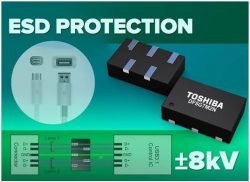 Toshiba America Electronic Components, Inc. (TAEC)* today announced that it has introduced a new lineup of multi-bit, low-capacitance electrostatic discharge (ESD) protection diodes[1] for high-speed interfaces. Suitable for use in mobile devices, including smart phones, tablets and wearable devices, the new diodes deliver excellent protection performance and support interfaces including USB 3.0/3.1 and HDMI. The new devices simultaneously deliver low capacitance, low dynamic resistance and high ESD endurance. Minimum signal distortion of high-speed data signals is guaranteed by the ultra-low capacitance of 0.2pF, while a typical dynamic resistance of RDYN=0.5Ω ensures low clamping voltages. High ESD protection levels are supported by electrostatic discharge voltages of at least ±20 kV according to IEC61000-4-2.
The continuous growth of data traffic – driven by smart phones, wearables and applications such as virtual reality and the internet of things – has led to increasing numbers of high-speed interfaces that need to be protected from ESD events. Toshiba's new lineup of ESD protection diodes consists of five products for 3.3V signal lines and five products for 5.0V signal lines, allowing design engineers to select the appropriate match for the interface voltage of their device. The new diodes are fabricated with Toshiba's newly developed EAP-IV process[2], which utilizes Toshiba's proprietary snapback technology. This improves dynamic resistance, which absorbs ESD and noise, by approximately 50 percent compared to Toshiba's existing products[3]. ESD voltage is improved by approximately 75 percent when compared to existing products[3], which can contribute to system reliability improvements.
The new lineup of ESD protection diodes is available in three different package sizes to meet mounting space requirements. The small SOD-962 package is suitable for multi-port applications that are expected to grow, such as USB Type-C™[4]; the flow-through DFN10 (2.5×1.0mm) package can reduce the inductance of wires; and the SOD-882 (CST2) (1.0×1.6mm) package can contribute to slimmer, smaller devices.
Main Specifications
(@Ta=25°C)
Part number
Internal connection
Absolute maximum ratings
Working peak reverse voltage VRWMmax (V)
Dynamic resistance [6]RDYN typ. (Ω)
Clamp voltage[5] VCtyp. (V)
Total capacitance Ct typ.@VR=0V,f=1MHz (pF)
Package (Toshiba's package name)
Electrostatic discharge VESD(kV)
@ITLP=16A
@ITLP=30A
DF2B5M4SL
Bi-direction
±20
3.6
0.5
17
24
0.2
SOD-962
(SL2)
DF2B5M4CT[6]
SOD-882
(CST2)
DF2S5M4SL
Single- direction
0.3
14
18.5
0.35
SOD-962
(SL2)
DF2S5M4CT[6]
SOD-882
(CST2)
DF5G5M4N
Bi-direction
0.5
17
24
0.2
DFN5
DF10G5M4N
DFN10
DF2B6M4SL
5.5
0.5
18
25
0.2
SOD-962
(SL2)
DF2B6M4CT[6]
SOD-882
(CST2)
DF2S6M4SL
Single- direction
0.3
14
18
0.35
SOD-962
(SL2)
DF2S6M4CT[6]
SOD-882
(CST2)
DF5G7M2N
Bi-direction
1.0
36
50
0.2
DFN5
DF5G6M4N
0.5
18
25
0.2
DF10G6M4N
DFN10
Pricing and availability
The new ESD protection diodes are available now. For more details, samples and pricing information, please contact your local Toshiba Sales Office.
Notes
[1] ESD Protection Diode: Electrostatic Discharge Protection Diodes
[2] Toshiba's original process: ESD Array Process IV
[3] Existing product DF2B7M2SL (EAP-II process)
[4] USB Type-C is a trademark of the USB Implementers Forum
[5] (IEC61000-4-2) (Contact)
[6] TLP parameters: Z0=50Ω, tp = 100ns, tr=300ps, averaging window: t1=30ns to t2=60 ns