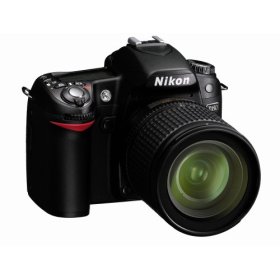 The Nikon D80 is a high performance and high-resolution model that is compact and slimmer than previous Nikon digital SLR cameras. Living up to Nikon's standards of ease of operation, the size and the layout of all buttons are designed for maximum ease of use. The D80 is well suited to advanced amateur or an enthusiast photographer. The battery life is elongated and a six-segment display on the top LCD panel displays the battery life and the menu allows viewing the exact percentage of battery life remaining. The auto focus feature on the camera is quick when used in combination of an appropriate lens. The built in flash works flawlessly even in varying and difficult lighting situations.

Additionally, some of the in-camera retouching options work well with changing colors. The red eye occurrence is negligible. The Nikon's D-lighting feature is the digital equivalent of dodging and burning. The LCD screen has 230,000 pixels and offers extremely sharp and detailed picture. The viewfinder uses a genuine pent prism that allows the finder to be nice and bright. Additionally, the diopter control knob with detents for each setting is a new upgrade from the previous models. The advanced Auto White Balance feature blends white balance with the light source for quality pictures including other optional manual settings like fine-tuning and other preset options for using a gray or white object as a reference. There is even a color balance shift function. Though the D80 consumes a lot of power due to its extended LCD functionality but is worth the purpose.
The Nikon D80 is bundled with a transparent plastic cover for the backlit LCD screen, one-touch zooming on picture playback and the depth of field preview option.
The Nikon D80 is comfortably lightweight and easy to grip with logically placed controls and intuitive menus that guide users very well.
Product Description
Includes 18-135mm F3.5-5.6 Lens / Uses F mount lenses / SD Memory Card Slot / USB 2.0 / 2.5-inch LCD / 3D Color Matrix Meter Up to 2,700 images per battery charge – High-Efficiency power systems featuring reduced power consumption and Real-Time Fuel Gauge with Nikon's EN-EL3e Lithium Ion rechargeable battery Nikon 3D Color Matrix Metering II, plus Variable Center-Weighted and Spot Metering. Nikon's 3D Color Matrix Metering II instantly and accurately evaluates brightness, color, contrast, selected focus area and subject-to-camera distance information, referencing the results against an onboard database of 30,000 scenes from actual photography. Vary the size of the center-weighted area reading and spot metering readings correspond to 11 focusing points 11-area AF system with Wide-area Center Segment and Auto-area AF functions 2.5 LCD screen ISO Sensitivity (Recommended Exposure Index) – 100 to 1600 In-Camera Image Editing with Retouching Menu Built-in Speedlight with Nikon i-TTL flash metering and two-group Wireless Commander option Shooting Modes – 1) Single frame shooting mode; 2) Continuous shooting mode – approx. 3 frames per second; 3) Self-timer; 4) Delayed remote mode; 5) Quick-response remote mode Images are stored on SD digital memory cards Unit Dimensions (W x H x D) – Approx. 5.2 x 4.1 x 3.0 inch; Weight – Approximately 1 lb. 5 oz.
Technical Details
10.2-megapixel CCD captures enough detail for large, photo-quality prints
2.5-inch LCD display; power-up time of approximately 0.2 seconds
RAW and JPEG capture; burst mode allows for capture of three frames per second for up to 100 pictures
Image optimization functions and in-camera image retouching
Includes 18-135mm AF-S DX Zoom-Nikkor lens