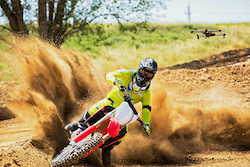 Following the success of its initial Kickstarter campaign, Airdog, the world's first high-performance, auto-follow camera drone, today announces it will kick off the release of its highly anticipated autonomous drone, the Airdog ADII. The ADII is exclusively available on Kickstarter, with complete production units available for discounted purchase and August delivery.
Building on the high-performance elements the original model was best known for, the ADII sets a new industry standard by combining advanced intelligent tracking technology with durable design and the most cutting-edge autonomous, all-terrain flight performance in the market.
The only camera drone on the market built for hands-free from the ground up, the ADII eliminates the need for manned operation, giving the user complete active freedom with perfect content capture. Customizable flight trajectories allow for more dynamic angles and obstacle avoidance, and scenic-capture modes for unique filming perspectives. Its pro-grade camera stabilization and auto-record system guarantee smooth, framed, professional-grade footage even in the most challenging elements, such as high speeds, wind, water, and abrupt elevation and terrain changes.
"At Airdog, we constantly remind ourselves of our humble roots and appreciate this amazing journey we've been on," says Edgars Rozentals, CEO at Airdog Inc. "The reception we received from our first campaign far exceeded our expectations. Countless hours of user content that flooded our channels, independent Airdog forums as well as a steady stream of flight log updates, have led the path to our newest release, the ADII."
Designed to meet the needs of extreme sport performance, the ADII is the perfect companion for a wide range of adventure and outdoor recreational sports, including trail running, surfing, backcountry skiing, mountain biking, wake-boarding, and motorsports.
The durable, lightweight, waterproof "AirLeash" tracking device allows for hands-free action with simple controls. The backlit LCD interface is loaded with easy flight, start-up tutorials and preset, sport, and customizable modes plus a series of automated creative modes for capturing scenery.
From pro to joe, the ADII is an essential tool in both creative production and high-performance, capturing content completely hands-free and to exact desired settings.
"This is about the freedom from the constraints of having to operate flight and the camera manually. Whether you are alone or with friends, now everybody is part of the story. Human-like intelligence brought to self-shot video creation is the mission the Airdog team is on," Rozentals shares. "The ADII is one step closer, but we're just getting started."