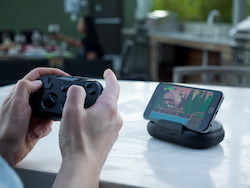 Kanex, announces the availability of its GoPlay Sidekick, a pocket-sized wireless game controller for iPhone, iPad and Apple TV. Certified by Apple, this portable controller works with almost any controller-supported game on the App Store. The rechargeable battery provides 20 hours of gameplay and uses Bluetooth 4.0 to connect to your device. The patent pending, innovative clamshell case protects your controller and serves as a stand to prop up your device and experience console-like gameplay wherever you go.
"The popularity of mobile gaming has developed at quite an astonishing rate, and for many great reasons – convenience, costs, and ease of use to name a few," commented Andrew Truong of Kanex. "Mobile gamers, however, have always had to sacrifice the level of control they could expect while gaming, until now that is. The GoPlay Sidekick brings the console gaming experience to your iOS devices."
Console-like Gameplay
With a layout inspired by traditional console controllers, Kanex GoPlay offers a more refined level of control than your touchscreen. Featuring pressure-sensitive buttons, dual analog joysticks, trigger buttons and a D-pad, you'll enjoy precision control for your favorite mobile games. You may even forget you aren't playing on the latest console!
Portable Play
Featuring a lightweight, compact design for ultimate portability, Kanex GoPlay Sidekick's innovative, patent pending protective clamshell case has an integrated stand to prop up your iPhone for the best view during game play. When not in use, this portable device effortlessly fits in your pocket or bag. The convenient rechargeable battery uses your iPhone's Lightning cable to power up, and a single charge provides up to 20 hours of gameplay.
Hundreds of Games to Choose From
With a growing number of high-quality controller-compatible games on the App store, the Kanex GoPlay Sidekick is the best gaming accessory for your iPhone, iPad or Apple TV. Specifically made for iOS, this little controller makes the most out of your gaming experience. It connects wirelessly to your device and works with any controller-supported game on the App store.
Apple Certified
Kanex GoPlay is Apple MFi Certified, which means it's specifically made for Apple iPhone, iPad and Apple TV so you can expect quality performance and reliability.
Availability & Pricing
The new Kanex GoPlay Sidekick is available now on www.amazon.com, with an MSRP of $59.95.