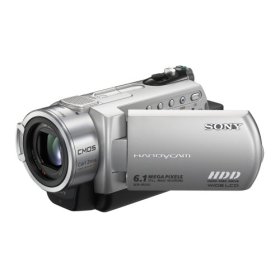 The Sony DCR SR300 is a feature packed camcorder for individual and family purpose. It is an easy point and shoot video camera that leaves the users little cause to worry with the focus and exposure settings. The image quality is excellent with its convenient 4-mega-pixel still while in video mode, an easy connect base, and mpg video format supported by the camera. The camera records stills to the hard drive eliminating the need of a memory stick altogether. But, it has to be used to transfer video and stills to the computer from the hard drive.
The Sony DCR SR300 can be directly connected to the TV to watch video. Unfortunately, when a filter or an auxiliary lens is attached to the camcorder the flash is disabled. This poses a serious limitation to the users who wish to enhance the picture quality. The Sr300 can also connect directly to a printer using the Pict Bridge feature and print images eliminating the process of copying images to the PC first. Moreover, the Sr300 is a little slow in connecting to the PC. There is also a slow motion feature but it can only capture a couple of seconds. It allows for clicking pictures while shooting the video also but it lets the users take only a couple of photos during shooting videos.
The SR300 is also equipped with a powerful surround sound function that produces great audio coupled with an equally good video quality. However, the SR300 does not have a USB port or video output options on the camera itself making the data transfer process tedious. The Sony SR300 is an expensive camera but power packed with a host of usable features that are handy and value for money like good quality video, compact size and good still pictures.

Product Description
The DCR-SR300 will record in Dolby Digital 5.1ch Surround Sound with a built-in microphone. By recording in 5.1 channel Surround Sound you can now experience your home movies with active sounds coming from all directions. The Optical Zoom helps to bring the action close up from far away. Carl Zeiss Lenses have an advanced optical multi-Layer coating for increased Contrast. The 2.7-inch Wide (16:9) LCD Screen provides excellent viewing clarity with improved Resolution.
The high Resolution 211K Pixel LCD Screen rotates up to 270 degrees for multiple viewing angles providing sharp, detailed images for monitoring or playback, and the widescreen format makes shooting in 16:9 mode and composing shots even easier. An advanced form of SteadyShot(R) Image Stabilization system controls an even higher range of shake and vibration frequencies. This optical stabilization system achieves an even higher level of smoothness without degradation of video like some Digital stabilization systems.
Enjoy your personal home movies the way you experienced them while recording. Recording and Playback Times – HQ Up to 9 hours, SP Up to 14 hours, LP Up to 28 hours 35mm Equivalent Optics/Lens – 40-400mm (16 – 9 Camera Mode), 49-490mm (4 – 3 Camera Mode), 40-400mm (16 – 9 Memory Mode) and 37-370mm (4 – 3 Memory Mode) Shutter Speed – Auto, 1/2-1/500(Scene Selection Mode) Scene Modes – Beach, Candle, Fireworks, Landscape, Portrait, Snow, Spotlight, Sunrise & Sunset, Twilight and Twilight Portrait Carl Zeiss Vario-Sonnar T Lens Built-in 5.1ch Microphone Docking Station – Handycam(R) Station Compatibility – Microsoft Windows 2000 Professional, XP Home and XP Professional Unit Dimensions – 3 x 3 1/8 x 5 1/8 (76x78x128mm)
Technical Details
40 GB HDD stores up to 28 hours of video
3.0-megapixel ClearVid CMOS sensor for crystal-clear video and still images
10x optical zoom; Dolby Digital 5.1-channel audio recording
2.7-inch widescreen touch-panel Clear Photo LCD Plus display
Handycam Station included