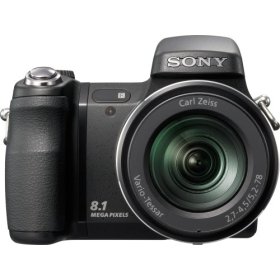 The Sony Cyber shot H7 is a great point and shoot camera and delivers amazing picture quality. It is fairly compact with foldable LCD screen. Even at 8.1 mega pixel and 15 x zoom in broad daylight the pictures turn out really good. The zoom feature works great for focusing and there is no visible blur or fuzzy images. The camera comes bundled with a remote, carrying strap, lens cover, and lens shade. Macro mode is really cool. I'm just a casual photographer, but this camera churns out some professional looking macro shots.
Face detection works well too, although I'm still on the learning curve. The face detection works wonderfully with the DSC H7 and helps in clearly focusing on the faces but it may take a while longer to turn this feature on. Though the interface is not very difficult to navigate but can be assisted by the user manual for quick learning. The Cyber shot DSC H7 come with its own set of problems too.
The screen smudges very easily and quickly and requires a protective covering for extended life. The resolution on the screen isn't very good and fairly moderately. There is also problem with the accessories since the Sony products work only with the Sony accessories. Therefore, anybody buying this camera should also be prepared to do away with their existing pack of accessories to be replaced by these. The memory card also needs a replacement with one that has a large storage capacity. Though, the battery works well but does not last very long and for an entire day of shooting may actually call for a replacement. The DSC H7 is a professional looking camera but is not easy to hold. Grip with one hand may cause the image to shake and might call for assistance with the spare hand.

Product Description
Though not considered a compact digital-camera model, the focal length of this camera offers amazing versatility. Shoot dramatic close-ups and sharp fast-action shots with the 8.1 mega pixel Cyber-shot(R) DSC-H7 digital camera. The Carl Zeiss 15X (35mm film equivalent to 31 – 465 mm) optical zoom and Advanced Sports Mode with high shutter speed are perfect for crisp long shots and excellent detail when shooting at sporting events. Super SteadyShot(R) image stabilization and high-sensitivity (ISO 3200) mode reduce blur when shooting without a flash and Face Detection technology brings out the best in faces.
You can also manually control the exposure and focus of the DSC-H7, making it ideal for more artistic shots. And with HD (high definition) output, photos can look even more spectacular when you share them with friends and family on HDTV screens. For more creative freedom, a simple wheel-dial control lets you quickly change camera settings in manual modes (shutter speed priority, aperture priority, manual exposure) and also control ISO sensitivity, focus area, and exposure value. In play mode, the wheel dial provides a quick way to view your next or previous shot. ISO – Auto, 80, 100, 200, 400, 800, 1600, 3200 Shutter Speed – 1/4-1/4000 sec. (Auto), 1-1/4000 sec. (Program Auto), 8 – 1/2000 (Aperture Priority), 30 – 1/4000 (Manual/Shutter Priority) Electronic-flash 1080i HD mode In-Camera Editing Dimensions – 4.31 W x 3.31 H x 3.38 D
Technical Details
8.1-megapixel Super HAD CCD captures enough detail for photo-quality 16 x 22-inch prints
Carl Zeiss 15x optical zoom lens; 2.5-inch LCD display
High Sensitivity Mode (ISO 3200) allows for shooting even in low-light conditions
MPEG Movie VX Fine mode captures VGA (640 x 480) audio/video clips at high frame rate
76x Smart Zoom feature gives you an amazing ultra-close crop