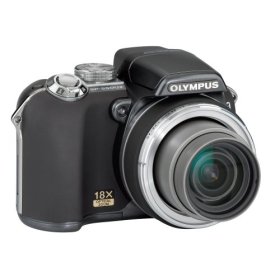 The Olympus SP 550UZ is a great looking camera with easy and steady grip even with the AA batteries it uses. The dials on the camera have a sharp and solid appearance. The pictures are clear and crisp in almost all the shooting conditions. There are various preset functions in the camera like the different shooting modes and the ability to store raw images that can be accessed by familiarizing oneself with the user manual. However, there are some functions that do not find a description in the user manual. Storing raw images is also a problem with SP550UZ due to the large file size and it becomes extremely cumbersome to transfer these slow moving files on to the hard disk of the computer The dual Image Stabilization feature works in cohesion with the push of a button rather than going through the Menu driven process. It is also assisted by the e manual stabilization.
Also, the eyepiece viewfinder is setup so that if the display on the back is on, the viewfinder is off and vice-versa. This is good for taking pictures when it is too bright to see the back screen. This camera also includes a time-lapse mode for movie making. The optical zoom is very usable with only minimal distortion noticeable at the extremes. There is a selector dial on the camera and is extremely helpful with the photo/descriptions that appear in figuring out how to use the camera. Their "guide" mode is a wonderful addition for the beginner. But, this camera does not support high data transfer speeds. Downloading photos from the camera through the USB interface is painfully slow compared to most current generation digital cameras. The software provided with the camera is somewhat difficult to use and slow.
Nevertheless, Olympus wins with its image quality and various user-friendly features that assist in all shooting conditions especially outdoors.

Product Description
The SP-550UZ features the world's most powerful zoom lens, offering maximum shooting versatility for travel, sports and everyday use. The 18x super telephoto zoom gets you closer to the action than any compact digital camera on the market.
The 2-in-1 blur solution Sensor-Shift Image Stabilization keeps your shot steady by compensating for camera shake and freezes the action with high ISO sensitivity along with faster shutter speeds. Record TV-quality AVI movies close up with sound 640×480 at 30 fps up to the capacity of your xD card. Shutter Speed – 1/2000 Second – 15 Seconds ISO Output Sensitivity – Auto, High ISO Auto, 50, 100, 200, 400, 800, 1600, 3200,5000 Metering Mode – Digital iESP Auto Multi-Pattern TTL, Center-Weighted MeteringWhite Balance – iESP2 Auto, One-Touch, Presets (Sunlight, Overcast, Tungsten and 3 Fluorescents) Recording Modes – DCF Exif 2.21, PIM3 and JPEG Still Image, AVI Motion JPEG Movie 30 Shooting Modes – Auto, Program Auto, Aperture Priority, Shutter Priority, Manual, My Modes, GUIDE, Scene Presets (Portrait, Landscape, Landscape & Portrait, Night Scene, Night & Portrait, Sport, Indoor, Candle, Self-Portrait, Available Light Portrait, Sunset, Fireworks, Cuisine, Documents, Auction, Shoot & Select1, Shoot & Select2, Beach, Snow, Underwater Wide 1, Underwater Wide 2, Underwater Macro) and Movie Panorama – Up to 10 frames automatically stitchable with Olympus brand xD-Picture Card Built-in Flash Modes – Auto, Red-Eye Reduction, Fill-In, Fill-In & Red-Eye, Slow Sync, Off Self-Timer – 12 Seconds, 2 Seconds, AUTO 20MB internal memory Power Supply – 4x AA Batteries, AC Adapter (C-7AU) System Requirements – Windows 98SE, ME, 2000 PRO, XP, VISTA, Mac OS 9.0-9.2x, OS X 10.1-10.4 or higher Dimensions – Width 4.6 x Height 3.1 x Depth 3.1 inch (116mm x 78.5mm x 78mm) Weight – 12.9 ounces (365 gram) without batteries and media card.
Technical Details
7.1-megapixel CCD captures enough detail for photo-quality 15 x 20-inch prints
18x super-telephoto zoom lens; 15fps high-speed sequential shooting
2.5-inch, high-resolution LCD screen
Bright Capture technology for low-light photography and image viewing
Stores images on xD Picture Cards