Marking its seventh year as Presenting Sponsor and Official Vehicle of the Sundance Film Festival, Acura returns to Park City, Utah with Acura Mood Roads, a new, first-of-its-kind immersive virtual journey inspired by the brand's signature performance technologies that define the exclusive Acura driving experience. Housed at the new Festival Village presented by Acura, running Jan. 20-28 at the Sundance Film Festival, Mood Roads offers attendees a full-sensory virtual driving experience, using brainwave technology to tap into 30 of the driver's emotional, cognitive and physical inputs to create a unique environment with landscape, color and music changing in real time to reflect the driver's moods.
In addition to Mood Roads, the Festival Village presented by Acura will offer multiple performance technology-themed installations, a space where Festival-goers can recharge and relax along Main Street while serving as a location for film press junkets.
Acura Mood Roads
Merging technology in a first-of-its kind application, Acura Mood Roads is designed to showcase the emotional elements of a virtual drive experience using bio-sensory feedback symbolizing Acura's Precision Crafted Performance DNA. TheMood Roads experience is inspired by Acura's acclaimed Sport Hybrid Super Handling All-Wheel Drive™ (SH-AWD®), the automaker's exclusive technology that uses its three electric motors to create a driving experience like no other, with exceptional handling, acceleration response and braking performance in combination with high fuel efficiency. To experience Acura Mood Roads, guests will enter a spherical motion simulator equipped with a performance driver's seat and 30 biometric sensors, measuring 24 integration points including the user's brainwaves, heartbeat and facial expressions. Once buckled in, guests will embark on a journey customized in real time as landscape, color, music and speed all change based on the driver's mood as interpreted by the biometric sensors.
Acura Mood Roads takes each guest down a virtual road in an abstract environment, bringing to life the road's curves, twists and turns through the motion simulator, all responding in real-time to the driver's emotional, cognitive and physical inputs. The visual journey is viewed by the driver as a large projection on the inside of the Mood Roads sphere, accompanied by music specifically composed for differing experiences and other sound effects inspired by Acura vehicles, including the NSX supercar. Acura's Mood Roads is a highly personal 90-second journey with no two experiences being identical.
"The Sundance Film Festival is both a platform for groundbreaking filmmaking and a showcase of innovative film technology, and the Acura Mood Roads experience offers the tech-minded audience a unique merging of automotive and virtual technology they have never experienced before," said Jon Ikeda, vice president & general manager of Acura.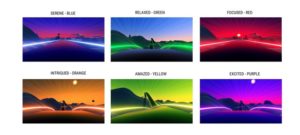 Festival Village Presented by Acura
The immersive experience for guests who check into the Festival Village Presented by Acura begins with signing-up for a custom branded RFID wristband, which enables attendees to check-in throughout the village, capture sharable social content and view the 2017 Acura NSX on display.
The Festival Village also will offer a space for guests to relax, recharge and explore additional engagements designed to showcase Acura's performance and Sport Hybrid SH-AWD® technology. Within the lounge is a Virtual Reality Pod that puts the guest behind the wheel allowing them to experience the power and performance of the all-new Acura NSX. Also on display is a full-size NSX ice sculpture complete with embedded LED lighting to highlight key features of the new Sport Hybrid SH-AWD® technology.
Celebrity guests that visit the Acura Studio will sign the hood of an NSX mounted in the press junket space to benefit the Pediatric Brain Tumor Foundation.
Outdoors, guests can experience performances on the Acura Stage and in the afternoon enjoy complimentary sips and snacks.
The Festival Village Presented by Acura will be open to the public January 20 – 28, daily from 11am – 6pm. (hours are subject to change due to special events).