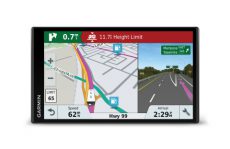 Garmin International Inc., today announced the latest expansion to its RV-dedicated navigator series with the introduction of the new RV 770 LMT-S model. Built specifically for camping enthusiasts, the RV 770 LMT-S offers advanced RV-specific navigation solutions, including free live services1 with real-time traffic updates, basic weather information and more. The new navigator offers a bright edge-to-edge 6.95-inch display that is effortless to view any time of day. Additionally, this versatile RV navigator is preloaded with TripAdvisor® data so drivers can see ratings for popular travel points of interest, such as hotels, restaurants and attractions.
"The RV 770 LMT-S offers a valuable navigation solution for RVers wanting to make the most of their adventures," said Dan Bartel, Garmin vice president of global consumer sales. "It's important for RVers to drive without the use of bulky outdated travel sources. This new RV navigator offers relevant travel information for places along your route, including the option to let friends track your whereabouts along a trip."
Connectivity plays an essential role in the refined feature set of the RV 770 LMT-S with the useful LiveTrack™1functionality, a feature that allows drivers to share their locations with friends or loved ones to track their spot along a journey. Thanks to its built-in Wi-Fi®, drivers can download map and software updates2 with the RV 770 LMT-S to ensure they have the most up-to-date information, even while traveling away from home. This RV-specific navigator also aims to keep drivers informed with trip planner settings that can suggest attractions along a route to add entertainment value during a road trip.

Recreational vehicle drivers require a dedicated RV navigator with purpose-built features to simplify their travels. With the RV 770 LMT-S, drivers can benefit from essential customized routing3 based on the size and weight of the RV or towable trailer. The new RV 770 LMT-S boasts a comprehensive directory of RV parks and services that allow RVers to easily find campgrounds and service locations, which can be filtered based on preferred amenities like onsite water, internet access and electric hookups. Campers will also be guided with helpful RV-specific driver alerts for upcoming steep grades, bridge heights, weight limits and more.
Users will receive alerts for sharp curves along a route, as well as fatigue warnings that activate after longer periods of consecutive driving without any long stops along the route. The fatigue prompt asks drivers if they are in need of a break and suggests places nearby, such as restaurants and rest areas. RV users can even alter their routes to include preferred roads or cities by touching the screen with the Easy Route Shaping option.
In order to encourage safer driving, the RV 770 LMT-S offers convenient, hands-free navigation features to allow drivers to keep their hands on the wheel. Voice-activated navigation lets drivers control the navigator by speaking commands to the device. What's more, users can wirelessly pair their navigator to a smartphone to make and receive hands-free calls4via Bluetooth® and obtain valuable smart notifications1 as well. Any text messages, app alerts, and other relevant notifications from a compatible smartphone will seamlessly appear alongside the map screen.
The RV 770 LMT-S is compatible with the Garmin BC™ 30 Wireless Backup Camera (sold separately) that lets drivers easily view the area directly behind the RV or trailer while in reverse. Additionally, the navigator works with any Connect IQ™ compatible Garmin smartwatch, such as the new fēnix®5 (sold separately), providing driver alerts directly to the watch as well as compass guidance from a parked RV to a destination, and back to the RV again.
The Garmin RV 770 LMT-S is expected to be available February 2017 with a suggested retail price of $399.99 and will be available through a variety of retailers including Camping World, the nation's number one retailer of RVs, RV accessories and RV-related services.
For decades, Garmin has pioneered new GPS navigation, advancements with camera solutions, wireless devices and applications that are designed for people who live an active lifestyle. Garmin serves five primary business units, including automotive, aviation, fitness, marine, and outdoor recreation.
1To access live information or smart notifications, you must download the free Smartphone Link app on your compatible smartphone (sold separately). User's data plan charges, if any, will apply. Learn more at garmin.com/SPL
2You will need a computer or Wi-Fi network with sufficient capacity and a compatible operating system to update the software and maps on your device. Connect to a home Wi-Fi network, or any public Wi-Fi network that does not require web browser sign-in, then your navigator's home screen will show a prompt indicating there's an update available. Plug in your device into any outlet and let your device update over Wi-Fi while it charges.
3Not available in all areas. Entering your RV or trailer profile characteristics does not guarantee your RV's characteristics will be accounted for in all route suggestions. Always defer to all posted road signs and road conditions.
4Requires Bluetooth-enabled smartphone (sold separately).