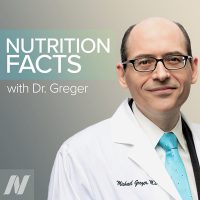 NutritionFacts.org, a leading source for independent, non-commercial and science-based articles and videos on virtually every aspect of diet and healthy eating, has launched a new audio podcast series that lets people get the latest evidence-based nutritional research and healthy eating advice on their mobile device.
The weekly podcasts, which are freely available from iTunes (iOS) and Google Play (Android), are led by NutritionFacts.org's founder Michael Greger M.D. FACLM. As with all other content available on the site, the podcasts offer unbiased, evidence-based information and insights on key topics such as heart health, men's health, women's health, nutrition facts, Alzheimer's prevention, and more.

"Our goal with the new podcast series is to educate as many people as possible on the latest in clinical nutrition, including information on how to treat and even reverse some of the leading causes of death and disability, so they can make the best choices regarding their health, and the health of their family," commented Dr. Greger, who in addition to being an internationally-recognized physician and speaker on nutrition, food safety and public health issues, is also author of the New York Times bestselling book How Not to Die.
"Doctors receive surprisingly little nutritional training in medical school, and they typically do not supplement this knowledge gap after graduation," commented Joseph Ram, whose company Issues & Advocacy is producing the new podcast series. "As such, there is a great deal of misinformation out there that is steering people in the wrong direction, and damaging their health instead of strengthening it. The podcasts expand Dr. Greger's platform to carry out his critical work, which is to educate and empower people to take control of their health and future."