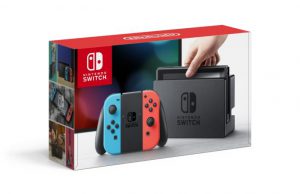 Nintendo announced today that the new Nintendo Switch system will launch worldwide on March 3, 2017 at a suggested retail price of $299.99 in the United States.
The system will include the main console, Joy-Con (L) and Joy-Con (R) controllers, a Joy-Con grip (to which two Joy-Con are attached and used as one controller), a set of Joy-Con wrist straps, a Nintendo Switch dock (which holds the main console and connects it to a TV), an HDMI cable and an AC adapter. Two stylish versions of the system will be released: a version with a set of gray Joy-Con, and a version with one neon blue and one neon red Joy-Con. Both versions will be the same price.
"Nintendo Switch is a brand-new kind of home gaming system that offers a wide variety of play modes," said Nintendo President Tatsumi Kimishima. "We will introduce the world to new experiences made possible by the unique characteristics of the Nintendo Switch hardware and the Joy-Con."
Nintendo Switch is a breakthrough home video game system. It not only connects to a TV at home, but it also instantly transforms into an on-the-go handheld using its 6.2-inch screen. For the first time, players can enjoy a full home-console experience anytime, anywhere. The screen includes capacitive multi-touch capabilities for compatible games. Battery life can last for more than six hours, but will vary depending on the software and usage conditions. For example, The Legend of Zelda: Breath of the Wild can be played for roughly three hours on a single charge. While away from home, Nintendo Switch can be charged by plugging the AC adapter into the console's USB Type-C connector.
The versatile Joy-Con offer multiple surprising new ways for players to have fun. Two Joy-Con can be used independently in each hand, or together as one game controller when attached to the Joy-Con grip. They can also attach to the main console for use in handheld mode, or be shared with friends to enjoy two-player action in supported games. Each Joy-Con has a full set of buttons and can act as a standalone controller, and each includes an accelerometer and gyro-sensor, making independent left and right motion control possible.

Nintendo Switch also contains a number of built-in features that make it more interactive. The left Joy-Con has a Capture Button that players can press to take instant screenshots of gameplay to share with friends on social media. The right Joy-Con includes an NFC touchpoint for interaction with amiibo figures, as well as an IR Motion Camera that can detect the distance, shape and motion of nearby objects in specially designed games. For example, it can tell how far away a player's hand is, and even if the hand is forming a rock, paper or scissors shape. Both Joy-Con include advanced HD Rumble, which can provide compatible games with subtle vibrations that are much more realistic than before. The effect is so detailed that a player could, for example, feel the sensation of individual ice cubes colliding inside a glass when shaking a Joy-Con. With HD Rumble players can experience a level of realism not possible through sights and sounds alone.
Nintendo Switch makes it easy for players to stay connected. Up to eight systems can be connected for local wireless play. The player can place the system upright anywhere by using the built-in stand, then easily share Joy-Con for multiplayer fun away from the TV. The system will support online Wi-Fi multiplayer gaming. Nintendo also unveiled a new online subscription service that will begin with a free trial at launch. The service includes a smart-device application available in Summer 2017 that will let users invite friends to play online, set play appointments and chat with one another as they play compatible games. The fully featured paid service will be available in the fall.
Nintendo Switch will be supported by world-class third-party publishers including Activision Publishing Inc., Electronic Arts, Take-Two Interactive, Ubisoft, Warner Bros. Interactive Entertainment and major Japanese publishers. Some publishers, such as Bethesda Softworks, are joining Nintendo for the first time. Players can look forward to major franchises on Nintendo Switch such as EA SPORTS FIFA, The Elder Scrolls, NBA 2K, Minecraft and more. Nintendo Switch software will not be region locked.
The unique capabilities of the console and Joy-Con have combined with innovations from past systems to create Nintendo's most flexible, feature-packed video game system ever. This is demonstrated by the wide variety of unique games that were announced for launch day, this summer and into the 2017 holiday season, from both Nintendo and its third-party partners. From the engrossing open-air experience of The Legend of Zelda: Breath of the Wild to the party fun of 1-2-Switch, Nintendo Switch offers something for everyone.
Select First-Party Games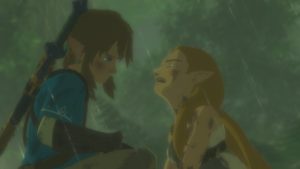 The Legend of Zelda: Breath of the Wild: Prepare for the biggest Legend of Zelda adventure yet, with an open-air style that breaks new boundaries while honoring the origins of the acclaimed series. Explore a world of unprecedented size and discover more than 100 puzzle-filled Shrines of Trials, plus a wide variety of weapons, outfits and gear. Players won't want to stop playing, and they won't have to since Nintendo Switch allows them to continue the adventure anywhere, anytime.
The game is compatible with Zelda 30th Anniversary series amiibo, the Wolf Link amiibo (which will be re-issued as a standalone amiibo on Feb. 3) and the new Legend of Zelda: Breath of the Wild series amiibo. In addition to the previously announced Link (Rider), Link (Archer) and Guardian amiibo, The Legend of Zelda: Breath of the Wild series amiibo will also include new Zelda and Bokoblin amiibo. The amiibo in this series carry a suggested retail price of $15.99, except for the massive Guardian amiibo, which has a suggested retail price of $19.99.
The Legend of Zelda: Breath of the Wild will provide players with a landmark Nintendo Switch experience on the system's launch day in March, and will be available as a standard edition, Special Edition and Master Edition. The Special Edition includes the game, a Nintendo Switch Sheikah Slate Carrying Case, Sheikah Eye Collectible Coin, Relic of Hyrule: Calamity Ganon Tapestry and Weather-Worn Map, and The Legend of Zelda: Breath of the Wild Sound SelectionCD for a suggested retail price of $99.99. The Master Edition includes all of those items plus a Master Sword of Resurrection figure, and has a suggested retail price of $129.99.
1-2-Switch: This is the first Nintendo video game in which players compete in fun activities while staring into each other's eyes instead of at the TV screen. From Wild West gunslinging to copying each other's dance moves, the games in 1-2-Switch make creative use of a broad variety of Nintendo Switch features to liven up parties with anyone, anywhere, at any time. 1-2-Switch will be available alongside the Nintendo Switch system on its launch day in March.
ARMS: Featuring a unique multiplayer fighting sport that lets players trade blows using extendable arms, this game includes elements of both boxing and shooting games, plus a new cast of characters. After customizing a character with a variety of arms, the player holds one Joy-Con in each hand and throws left and right punches at the opponent. Characters can jump and dash, and players can bend their punches by twisting their hands as they swing. As players learn the game and improve their skills, they will discover a deeper level of advanced tactics. Players can compete against the computer, against a friend on a split screen using a second set of Joy-Con (sold separately), against worldwide rivals online, or with two Nintendo Switch systems over a local wireless connection. ARMS will be available this Spring.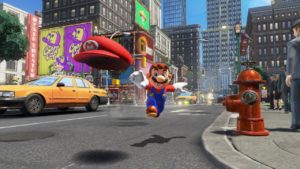 Mario Kart 8 Deluxe: With Nintendo Switch, fans can enjoy the definitive version of Mario Kart 8 anywhere, anytime, even with up to eight friends in local wireless multiplayer. All your favorite tracks and characters return from the Wii U version, plus all DLC tracks and characters, and new characters join the roster, too: Inkling Girl and Inkling Boy from Splatoon, as well as King Boo, Dry Bones and Bowser Jr.! Plus, Battle mode has been revamped and includes Balloon Battle and Bob-omb Blast, with new courses such as Urchin Underpass and Battle Stadium, and returning ones like GCN Luigi's Mansion and SNES Battle Course 1. Players can now carry two items at a time, including new items returning from previous Mario Kart games such as Boo (the item-stealing ghost) and the Feather, which gives players a high jump in Battle mode. Players can even choose to use a new Smart Steering feature, which makes driving and staying on the track easy for novice players and kids, even at 200cc. Play in TV mode in up to 1080p. Mario Kart 8 Deluxe launches in April.
Splatoon 2: Traditional 4-on-4 turf battles return in this full sequel to the original breakout hit game, along with new stages, new fashions and new weapons such as the two-handed Splat Dualies. Players can compete on the TV or on the go. Whether they use the Nintendo Switch Pro Controller (sold separately) or Joy-Con, players can aim their ink using gyro controls. Splatoon 2 supports both local and online multiplayer matches. The game will also support voice chat using the new Nintendo Switch smart device app (a free, limited version of the app will be available this summer), and will add new stages, fashions and weapons after launch, as the original game did. Splatoon 2 is scheduled to launch this summer.
Super Mario Odyssey: This is the first sandbox game that allows Mario to fully explore his world since Super Mario 64on Nintendo 64 and Super Mario Sunshine on Nintendo GameCube. Mario jumps out of the Mushroom Kingdom and embarks on a journey through mysterious new places and new experiences, such as sailing between worlds aboard an airship and the ability to throw Mario's cap. Super Mario Odyssey is scheduled to launch during the 2017 holiday season.
Snipperclips – Cut it out, together!: In this creative new kind of Action-Puzzle game, players communicate, cooperate and use their imaginations to solve basic and advanced puzzles by cutting paper characters into new shapes. People can play solo or with a friend in the main game, then bring in a bigger group to solve up to four-player dynamic puzzles or compete in other activities. Snipperclips – Cut it out, together! will release in March exclusively in Nintendo eShop.