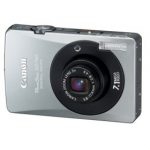 The Canon Power Shot SD 750 is available in Silver and 2 tone fashionable black outer case. The SD 750 is light, easy to operate and ultra compact for mobility. The most striking feature of the Power Shot SD 750 is a massive 3-inch LCD display that works well even in direct sunlight. Power Shot SD 750 delivers excellent ISO photo quality images and works wonderfully well in poor light conditions also. The movie recording software of SD 750 uses the MJPEG technology that enables better compression over the traditional modes and thus, requires less storage space. The movie audio output quality is good coupled with noise reduction. The SD 750 has in inbuilt touch dial control allowing easy access for several optional settings like focus, flash, ISO speed, timer etc. It is also equipped with the traditional Print, Playback, Menu and Display for easy navigation.
Canon SD 750 has a generous collection of preset shooting modes allowing up to 10 preset scenes to choose from. The Power Shot 750 is pictBridge capable allowing it to integrate well with pictBridge enabled printers. It eliminates the need of a computer and can print directly to printers that support pictBridge.
The Canon Power Shot SD 750 does not offer the optical viewfinder mode for shooting and end up eating a lot of battery with its sole dependence on LCD mode. The SD 750 also lacks the image stabilization feature and the manual exposure mode. Continuous shooting mode also poses a slight problem with SD 750 though it offers great movie quality upon recording.
This fully automatic, intelligent camera from the Canon Power Shot range is packed with great looks, design and features best suited for starters and professionals alike. Especially, with its wrist strap that offers better hold over the camera, it stands distinctly apart when it comes to the safety aspect of snapshot cameras.

Product Description
Chic styling and simplicity of use identifies the technologically wonderful SD750. Canon's iconic ELPH design achieves a stunning new evolution with the Power Shot SD750 Digital ELPH. Utterly simple edge lines and cut surfaces gleam subtly with high-grade finishes, now offered in a choice of silver or black and silver. Of course, style means little without substance, and here the SD750 Digital ELPH more than delivers. 7.1 mega pixels and DIGIC III create magnificent images, while exciting advanced technologies include Face Detection, Red-eye Correction, and time-lapse movies. Always sized to go, the SD750 Digital ELPH is now extra-durable, with a tough scratch-resistant coating on its anti-reflective, brilliantly colorful 3.0-inch LCD screen. Program AutoExposure; AE Lock / 15-1/1500 sec.; Long Shutter operates with noise reduction when manually set at 1.3-15 sec. High ISO Auto, ISO 80/100/200/400/800/1600 equivalent (Standard Output Sensitivity. Recommended Exposure Index) Built-in multimode electronic-flash Shooting mode menu – Auto, Camera M, Special Scene (Portrait, Foliage, Snow, Beach, Fireworks, Aquarium, Underwater, Indoor, Kids & Pets, Night Snapshot), Color Accent, Color Swap, Digital Macro, Stitch Assist, Movie Photo effect menu with selectable modes Storage for stills and movies – SD Memory Card, SDHC Memory Card, MultiMediaCard in camera slot – 32MB included but we suggest at least 1GB option for practical camera use Selectable image resolutions – Still Image – 640 x 480 (Small), 1,600 x 1,200 (Medium 3), 2,048 x 1,536 (Medium 2), 2,592 x 1,944 (Medium 1), 3,072 x 2,304 (Large), 3,072 x 1,728 (Widescreen); Movie – 640 x 480 / 320 x 240 (30 fps/15 fps) available up to 4GB, 320 x 240 (1 min. at 60 fps), 160 x 120 (3 min. at 15 fps), 640 x 480 (2 hrs. at 0.5 fps/1 fps. Playback at 15fps Size – 3.61 x 2.24 x 0.77 in. / 91.6 x 56.8 x 19.6mm; Weight – Approx. 4.59 oz. / 130g (camera body only)
Technical Details
Package includes – PowerShot SD750 Digital ELPH Body;
Lithium Battery Pack NB-4L; Battery Charger CB-2LV; SD Memory Card SDC-32M; Wrist Strap WS-DC2; Digital Camera Solution Software CD-ROM; USB Interface Cable IFC-400PCU; AV Cable AVC-DC300
7.1 Effective Megapixel;3x Optical Zoom – 5.8-17.4mm f/2.8-4.9 (35mm film equivalent – 35-105mm) / 4x Digital-Zoom 3 LCD
TTL AutoFocus