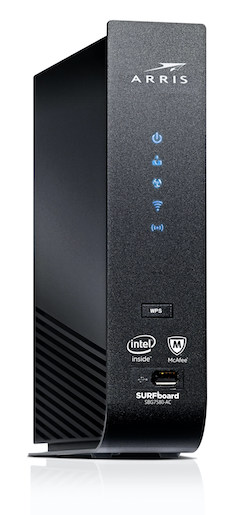 ARRIS International plc  today launched the ARRIS SURFboard® SBG7580-AC cable modem gateway with ARRIS® Secure Home Internet by McAfee® exclusively* at BestBuy.com. A combination gigabit cable modem, Wi-Fi® router, Ethernet hub and home internet security center, the SBG7580-AC gateway is fast, secure, easy-to-use and eliminates monthly rental fees. As the first broadband gateway featuring McAfee's Secure Home Internet, the SBG7580-AC moves the security burden off your individual connected devices and onto your home internet's first point of entry for easier and better protection.
Cyberattacks in the connected home are a growing consumer concern. A recent McAfee study** revealed that 81 percent of consumers think it's important that their online identity and internet-connected devices are secure. As consumers install increasing numbers of connected devices into their home, savvy cybercriminals have morphed their focus to those new devices, knowing that many consumers fail to take the proper security precautions to protect themselves. Today, any device that connects to the internet is a potential target if not properly secured. This is why ARRIS partnered with McAfee, a leading independent cybersecurity company, to enable best-in-class security at the point where data flows in and out of the home.
Product Highlights
Ultimate Performance: Capable of blazing-fast gigabit speeds, the SBG7580-AC features a DOCSIS® 3.0 modem, 802.11ac Wi-Fi router and 4-port gigabit Ethernet hub in one product, making it ideal for whole families, avid streamers and downloaders, plus gamers who need a fast and reliable connection.
Connect and Protect – One Product and Protection For Your Devices: The SBG7580-AC has ARRIS Secure Home Internet by McAfee protection built right into the gateway, which means no additional software to install. As the entry point for the internet into the home, the SBG7580-AC can protect the devices connected to your network, by helping to stop malware, phishing, and more from reaching a connected device***, including your internet-connected appliances and products like smart thermostats, speakers and cameras.
Easy to Use, More Control for Parents: According to a recent study from McAfee, 80 percent of parents are concerned with their children's online interactions. Thankfully, with the SBG7580-AC with ARRIS Secure Home Internet by McAfee®, it's never been easier or simpler to help protect your whole family from potential online threats.With automatic device discovery and profiling, there's minimal setup and no additional software installation required.The SBG7580-AC also offers comprehensive parental controls, allowing consumers to set custom access and controls by user and device profile, block children from accessing inappropriate content and pause internet access for a specific device or the whole network.
Savings: The SBG7580-AC eliminates monthly modem rental fees from internet providers, which can save as much as $120 a year. It also comes with three years of ARRIS Secure Home Internet by McAfee protection for free, an approximate $240**** savings.
Take Your Security with You: McAfee security doesn't end with your gateway. To extend the security benefits beyond your home network, all owners receive McAfee LiveSafe™ software, which provides antivirus, identity and privacy protection, free for 90 days. That means your PCs, Macs, smartphones and tablets stay protected with McAfee software whether you're at home or away.
"The ARRIS SBG7580-AC is the first gateway to incorporate device security into the gateway, the entry point for internet into the home. In doing so, we've created a single product that delivers cybersecurity protection to devices in the home, including unsecured IoT devices," said Sandy Howe, SVP and GM, Consumer Products Group at ARRIS. "Instead of installing and updating security software on every single connected device, now people can simply connect to protect. ARRIS pioneered gateway technology, and the SBG7580-AC with ARRIS Secure Home Internet by McAfee showcases our 20+ years of technology communications expertise."
"We pioneered the digital life protection space where we made it our mission to protect all the devices that our customers use," said John Giamatteo, Executive Vice President, Consumer Business Group at McAfee. "With the integration of Secure Home Internet into the ARRIS gateway, we are delivering on this mission with an industry leader. The best security software is the kind that people actually use, and together with ARRIS, McAfee is making it easier than ever for consumers to protect every connected device in the home."