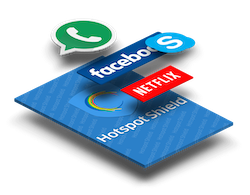 AnchorFree, the global leader in consumer online privacy and internet freedom with more than 500 million users, today announced a solution to save net neutrality – a first-of-its-kind, free Software Development Kit (SDK) that empowers developers to protect their apps from Internet Service Providers (ISPs) trying to throttle performance and collect user data.
"Long live net neutrality," said David Gorodyansky, founder and CEO of AnchorFree. "We strongly believe that online privacy is a human right. Every user and app developer deserves the right to control their mobile experience. That's why today we are excited to launch a product that will preserve net neutrality for app developers and users."
The new AnchorFree Software Development Kit comes at a critical time in the net neutrality debate. ISPs continue to fight for their ability to control the flow of data over their distribution platforms; consumers and app developers continue to fight for their rights to uninterrupted, high-speed, high-quality web access, commonly referred to as "net neutrality." And while net neutrality was supported by the Federal Communications Commission during the Obama administration, the FCC under President Trump has declared it does not believe it is the government's role to preserve net neutrality.
With so much uncertainty around the issue, AnchorFree developed a software solution that maintains net neutrality; creating a technology solution to a political problem.
"In the likely case that net neutrality is repealed and Internet Service Providers gain the ability to censor, slow down, or throttle access to certain sites and applications, any app developer can now add AnchorFree's SDK to protect their app and the privacy of its users," said Gorodyansky.
The new SDK allows internet companies that use a large amount of bandwidth – including Netflix, Spotify, YouTube, and thousands of others that stream video and music – to leverage AnchorFree's Hotspot Shield™ VPN technology to send their traffic through the company's secure servers. This process prevents ISPs like Comcast, Verizon, AT&T and others from tracking what apps are used, censoring or throttling traffic, or collecting any user data.
AnchorFree's approach to privacy and internet freedom has already been exceptionally well-received. About 75 percent of the world's largest security companies, including security powerhouse McAfee, Inc., Cheetah Mobile and others, have already integrated AnchorFree's technology into their own products. 550 million users have downloaded AnchorFree's Hotspot Shield™ application worldwide. Earlier this year, more than 2 million Americans downloaded the company's Hotspot Shield™ application in the first 30 days after the FCC rolled back regulations that prevented ISPs from collecting and selling user data. AnchorFree believes the release of its SDK will significantly expand developer integration and user protection.
"We believe AnchorFree's Hotspot Shield VPN technology provides superior performance and security for our users and are excited to work with AnchorFree on delivering it to millions of users worldwide," said Charles Fan, Chief Technology Officer of Cheetah Mobile.
"Most companies address net neutrality as a policy issue; we are responding to the challenge by launching a real product solution that can be used by app developers to protect their service and their users," said Gorodyansky. "The government may decide to roll back online privacy and net neutrality regulation, but the private sector can self-regulate and ensure a free and open Internet for millions of Americans."