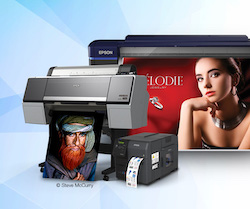 Epson today announced it will once again support and broaden its presence at The Studio at SIGGRAPH 2017 – "Cyborg Self." The Studio is a collaborative makerspace that brings the latest technologies and materials together, presenting creative ideas related to the convergence of the physical body and evolving technologies. Epson is supporting and hosting workshop classes and offering a full line of wide-format printers available for hands-on use at the Studio for attendees to learn and perfect digital printing skills from Sunday, July 30, through August 3, at the Los Angeles Convention Center. Epson printers available for use in the Studio include the Epson SureColor® P-Series desktop and wide-format printers for photography and fine art, the Epson SureColor T-Series wide-format printers for graphics and CAD printing, the SureColor S-Series eco-solvent printer for sign and vinyl graphics, and the SureColor F2000 direct-to-garment (DTG) t-shirt printer.
"Epson is a trusted name within the creative community and we are excited to have their continued support," said Brittany Ransom, chair, Studio, at SIGGRAPH 2017. "We are thrilled that our attendees have the opportunity to experience Epson's technology and build their digital printing skills. Whether photography, graphic art, illustration, or even textile designs, Epson provides diverse solutions with outstanding output for artists."
Attendees will engage with Epson high-end printing technologies, including large-format and direct-to-garment t-shirt printing in a creative environment. Participants will learn the printing process with their own art, designs and photography brought to the conference or created in real-time on a variety of paper types. In addition, this area will have stations with Wacom Cintiq® pen displays driven by Razer™ Blade and Mac Mini workstations, allowing the creation of original artwork.
Epson experts will teach the practical application of color management, including soft proofing and print viewing to help artists understand the best way to output and showcase the ideal print.
In addition, attendees will have access to Studio workshops offered and supported by Epson in Experience Hall, South Hall G:
WebAR – Creating Augmented Reality Experience on Epson Moverio® Smart Glasses: Teaches attendees how to view and create AR experiences using WebAR, which runs in web browsers requiring no native app download; participants will build AR experiences AR experiences in HTML5 and share creations online

Tuesday, Aug. 1 from 10:45 a.m.-12:15 p.m.

Comparing Screen Printing and Direct-To-Garment Technologies Using Digital Workflows: Reviews the complete process involved with traditional screen printing from start to finish – design, separation creation, film print, screen developing, registration, and print – and compares it with the process of direct-to-garment printing and offers tips to achieve the best direct-to-garment print

Tuesday, Aug. 1 from 2-3:30 p.m.

Getting Your Monitor and Inkjet Print to Match – Color Management and Printing: Shows an inkjet print that matches the monitor, and how to achieve it, as well as how practical it is to execute; as well as color management tips you can use and alternative workflows for pleasing prints

Thursday, Aug. 3 from 2-3:30 p.m.

"Epson has been a major part of the SIGGRAPH Studio with hands-on training and workshops since its inception as the Guerilla Studio," said Eddie Murphy, marketing specialist, Epson America. "We are proud to expand our presence this year in order to instruct creative individuals of all skill levels in a wide range of digital printing applications through hands-on, practical experience in color management, output workflow, and real-world considerations for creating the perfect final print."