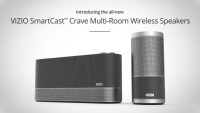 VIZIO, Inc., the #1 sound bar company in the U.S.1, announced today the availability of its latest SmartCast Crave audio collection in the Canadian market. Comprised of two separate wireless speaker models – the Crave Pro and Crave 360 – the Crave audio collection features Chromecast built-in, allowing users to stream their favorite tunes from Chromecast-enabled audio apps they already know and love such as Google Play Music and Spotify2. The Crave Pro is a stationary speaker designed to fill a room with powerful 2.1 channels of audio enhanced by dual integrated subwoofers, while the Crave 360 delivers a portable option, featuring 360˚ omnidirectional audio, great for moving from room to room or into the backyard, garage or patio. The VIZIO SmartCast Crave Pro and Crave 360 Speakers are offered at MSRPs of $409.99(CAN) and $339.99 (CAN) respectively, and are rolling out to Costco.ca and Amazon.ca.
Equipped with multi-room capabilities, users can connect multiple Crave speakers over WiFi throughout the home to either listen in unison, or play different songs in different rooms3. To make controlling even simpler, the Crave collection is conveniently controlled by the VIZIO SmartCast app. Simply download the VIZIO SmartCast app and transform any iOS or AndroidTM mobile device into a powerful touchscreen remote. With Chromecast built-in, listeners can tap the Cast button from any Chromecast-enabled audio app to stream their favorite tunes to any Crave speaker. While conventional speakers typically connect solely via Bluetooth, the VIZIO Crave collection allows consumers to stream their favorite music, podcasts and internet radio stations over WiFi. When streaming over WiFi, users can multi-task on their mobile device without interrupting a song. Bluetooth is also integrated into all VIZIO Crave audio products as an alternative option to WiFi streaming.
"Coming on the heels of our successful launch of our P-Series and M-Series SmartCast displays into the Canadian market, we're excited to now add the VIZIO SmartCast Crave multi-room speaker collection to the mix," said Matt McRae, Chief Technology Officer, VIZIO. "With a premium industrial design, high quality audio performance, and multi-room capabilities, the Crave collection makes it easy for consumers to create a whole-home audio system that they can easily control from the palm of their hand."
For consumers seeking powerful, room-filling audio quality, the VIZIO SmartCast Crave Pro Speaker delivers crisp, lush sound with deep bass. With a satin aluminum finish, the Crave Pro sits perfectly on an office bookshelf or living room side table. Crystal clear 2.1 channels of audio brings listeners' favorite songs to life with custom-crafted speaker drivers that produce up to 102 dB4 of dynamic sound and an integrated dual subwoofer pumping out bass as low as 40 Hz.
For those who want flexibility to move music around the home, consumers will appreciate the VIZIO SmartCast Crave 360 Speaker. Delivering 360˚ omnidirectional 2.1 channels of audio, the Crave 360 houses custom-crafted speaker drivers that produce up to 95 dB3 of dynamic sound with bass output as low as 50Hz. The portable speaker comes with a wireless charging base and plays up to 8 hours5 of music on battery power so music can be streamed anywhere in the home using WiFi or Bluetooth. In addition, the Crave 360 boasts a leather carrying strap for secure, grab-and-go convenience.
While both the Crave Pro and Crave 360 work seamlessly with the VIZIO SmartCast app, both speakers also feature a sleek, glass touch dial that allows users to tap to play, swipe to skip and twist to increase or decrease volume levels6 for quick, easy access and control.
For more information on the VIZIO SmartCast Crave audio collection, visit VIZIO.ca.
VIZIO SmartCast™ Crave Pro™ Multi-Room Speaker        (SP70-D5)       MSRP $409.99 (CAN)
VIZIO SmartCast™ Crave 360™ Multi-Room Speaker        (SP50-D5)       MSRP $339.99 (CAN)
1 The NPD Group / Retail Tracking Service, based on sound bar units old in the U.S. from January 2014 to December 2016
2 The third party applications and content described herein may only be available in certain countries and languages, may require additional fees or subscription charges, and may be subject to future updates, modifications, interruption and/or discontinuation of service without notice, and VIZIO has no control over such content.
3 VIZIO Crave Speakers cannot output audio from TVs/displays or be connected as an additional channel to an existing sound bar or sound system. Additional supported SmartCast or Chromecast-enabled audio products are required (not included) for Multi-Room feature. Streaming different songs to different speakers at the same time is not supported when using a single app running on a single mobile device. To stream a different song to different speakers at the same time, you'll need to stream from a different app or a separate mobile device.
4 Sound pressure level measured using pink noise at 1 meter, c-weighted.
5 Battery Life measured at 74dB SPL using pink noise at 1 meter, C-weighed
6 Swipe to skip is available where supported on select third party apps