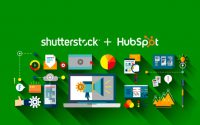 Shutterstock, Inc., a leading global provider of imagery and music and HubSpot, a leading inbound marketing and sales software company, today announced that they have entered into a strategic partnership that will bring thousands of curated high-quality images from Shutterstock's collection to HubSpot customers worldwide. The images will be available to all HubSpot customers who use the platform to run and optimize their marketing strategies across landing pages, websites, blogs and social channels.
"It's important for marketers to quickly and easily find images that support their campaigns," said Jon Oringer, Shutterstock's Founder and CEO. "It's not enough to include just any image in your marketing material. Today, marketers have to select the most powerful imagery to drive engagement and we are pleased to help HubSpot's diverse mix of B2C and B2B customers elevate their communications with high-quality images."
According to the CMO Council, nearly two-thirds of senior marketers consider visual assets essential to communicating their brand story. This partnership enables HubSpot customers to search Shutterstock's curated collection from within the HubSpot platform, select and license the image of their choosing for use on their websites or in promotional materials, and easily save the images into their File Manager for later use. The fresh and vibrant collection will help HubSpot customers create visually stunning and shareable content.
"At HubSpot, we're all about giving our customers the tools they need to really engage with and delight their audiences in a more inbound way," said Brian Halligan, CEO and Co-Founder of HubSpot. "High-quality visual content is such a key piece of that puzzle, and we're excited to be working with Shutterstock to bring those valuable resources to our customers."