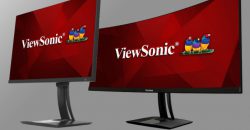 ViewSonic Corp. introduces three new monitors designed to deliver the ultimate performance for the most demanding professionals and prosumers. Packed with the latest display technologies, the new VP3881, VP3268-4K and VX2781-UC come with ultra-high resolutions ranging from Quad HD to 4K UHD, sleek frameless ID designs, a full array of advanced digital connectivity options and sophisticated, functional ergonomic stands to maximize usability and productivity.
The latest addition to the award-winning professional line of VP monitors is the VP3881, a 37.5-inch curved screen display that features stunning 3840×1600 resolution with an ultra-wide 24:10 aspect ratio for an immersive viewing experience. With a frameless SuperClear® IPS panel, and paired with professional pre-calibration achieving Delta E<2, the VP3881 delivers amazing color accuracy and consistency. To ensure that color accuracy is at its highest level, the VP3881 comes with hardware calibration that works with the ViewSonic Color Calibration™ Kit. Connectivity options include: HDMI, DisplayPort, USB 3.1 Type C and a USB hub.
Another new monitor in ViewSonic's professional display line is the VP3268-4K monitor. A 31.5-inch, four-sided frameless display, the VP3268-4K comes with 3840×2160 4K UHD resolution. This monitor strikes a balance between ultra-high resolution and large screen size, allowing the VP3268-4K to deliver the ultimate detail, clarity and screen real estate for professional applications. It comes pre-calibrated to achieve professional grade Delta E<2 and uniformity for color-critical applications. The VP3268-4K monitor offers a definitive front-of-screen experience when it comes to color reproduction and fine detail rendering for visual communication. It comes with HDMI, DisplayPort, Mini-DisplayPort and USB hubs for flexible connectivity.
With an ultra-thin and minimalistic design, the ViewSonic VX2781-UC is a 27-inch frameless monitor with a SuperClear IPS type panel. Part of the VX-series of multimedia/entertainment monitors, the VX2781-UC features 2560×1440 QHD resolution, and offers a great combination of color and resolution detail. Its fully ergonomic design maximizes comfort and productivity, delivering a large format screen and features for multimedia applications. The VX2781-UC comes with a USB 3.1 Type C input that provides a single cable solution for audio, video, power and data.
"With the VP3881, VP3268-4K and VX2781-UC, ViewSonic is offering a great selection of professional and entertainment displays for the most demanding users," said Kenneth Mau, senior product manager of displays for ViewSonic Americas. "We understand our customers and how important an immersive viewing experience, product design and color accuracy are to them. We developed these monitors keeping these elements in mind, and we're proud to be able to deliver the ultimate viewing experience through these new display solutions."
The ViewSonic VP3881, VP3268-4K and VX2781-UC will be available in June 2017 with the following estimated MRSPs:
Model Estimated MSRP
VP3881 $1,999.00 (USD)
VP3268-4K $1,359.00 (USD)
VX2781-UC $749.00 (USD)