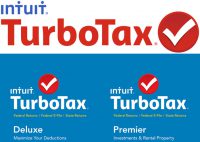 TurboTax®, the leader in tax preparation that prepares more federal returns than any other tax preparation provider, announced the launch of its 2017 advertising campaign. The campaign includes the brand's return and fourth consecutive appearance in America's biggest football game.
Titled "Relax There's TurboTax," the campaign demonstrates that with TurboTax, taxpayers are in charge, but never alone, as they prepare their taxes. That's because only TurboTax, from Intuit Inc. (Nasdaq:INTU), includes SmartLook™, providing customers in-product access to a live, one-way video connection to a TurboTax expert or credentialed CPA or enrolled agent, to get real-time, personalized answers.
"This year's campaign is the next step in redefining the TurboTax brand by proving that TurboTax has human help on demand so that people know they're never alone," said Greg Johnson, senior vice president of marketing for Intuit TurboTax. "The campaign works to overcome the biggest barrier to those who don't use software today. It demonstrates that TurboTax can serve a broad range of taxpayers, including Latinos, self-employed or those who've had life changes, by providing immediate access to expert assurance. With TurboTax, there's a human, on demand in the palm of your hand."
The campaign includes five broadcast spots, in both English and Spanish, and web films showing reassuring conversations that happen between TurboTax experts and customers, played by celebrities Kathy Bates, DJ Khaled, David Ortiz and Karla Souza. Each celebrity has an over-the-top tax situation, brought to life through playful, hyperbolic storylines. In each ad, the celebrity asks a unique question to an unflappable TurboTax expert, who answers even the toughest question in stride.
A series of new spots, including "Kathy Bates Scary Dependents," "David Ortiz New Job," "DJ Khaled The Exercise Program," and "Karla Souza Dependientes," launched over New Year's, during NFL and college bowl games, with additional spots rolling out over the next few weeks.
The campaign includes media integrations, digital and social activations and will continue throughout the 2017 tax season in high-impact sports, entertainment and cultural moments—including a 45-second ad on Sunday, February 5 in America's biggest football game.
"TurboTax will be back in the big game this year, taking advantage of a key moment to reach millions of Americans during the height of the tax season," added Johnson. "This year's spot will extend the campaign with additional breakthrough creative that brings to life the value of our on-demand, human help in a humorous and surprising way."
The campaign was created in partnership with independent advertising agency Wieden+Kennedy, based in Portland, Oregon and multicultural agency Grupo Gallegos.