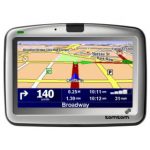 TomTom's Go910 packs a lot of information into such a small GPS device. The overall measurements of the Go910 are 4.2 inches by 3.1 inches, and is 2.5 inches deep, and weights only 12 ounces. A small, compact device, that's easy to use, and easy to take on the go. The screen is a 4 inch widescreen supported by WVGA and has a wide viewing angle. No direct sunlight worries, the Go 910's screen can be seen easily, even in sunlight.
It uses a 20 GB hard drive to store your maps and points of interest, which you can customize. Maps are of the United States, Canada, and Europe. Very extensive map coverage compared to the previous units. It speaks 36 different languages and has more than 50 voices, so you can customize it exactly how you want it. The text to speech feature includes eight different languages.
Navigation is done by entering your destination onto the touch screen. You'll get your results via the LCD screen with crystal-clear 3D graphics, 480×272 pixels, and 64,000 colors for optimal visibility.TomTom Go 910
The Bluetooth interface is a good feature. There are internal and external microphones, and you can use the external for improved audio performance. The Bluetooth technology's hands free calling is definitely a point in the right direction. If you're not concerned about the extra feature, there are other devices that do not include Bluetooth, but it's beginning to come standard in most GPS.

Also included is an MP3 player that will play audio books as well, and a slide viewer. It takes about 12 GB of the hard drive for your pictures and music. And if you're listening to music during navigation, the Go910 will mute the music for a navigational prompt.
It's simple enough for even a new GPS owner to use. The main menu has two pages of functions with five choices on each page. If you hit the Preferences menu, you get a submenu with three screens, and five choices on each of these.
The TeleAtlas map is preloaded, and includes several points of interest. You do not, however, have the option of calling a specific point of interest with the Go910, as you do with most other GPS devices that support Bluetooth technology. The POI search function is a good one, however, to expand it, you will need to spend a little extra on an upgrade.
It will plan the fastest route, but you can change it to plan the shortest, if that's your preference. You can avoid freeways, plan a walking or bicycle path, plan for limited speed, or just ask each time for a new route. You can also set it to avoid toll roads or to include them at your preference.
Overall, the TomTom Go 910 is a good device for the money. The widescreen display, Bluetooth technology, and MP3 player alone, make it competitive with many pricier devices.
Highlights
Smart extras: Built-in Mp3 player; 20 Gb (12 Gb free) of hard disk, enough for 1000's of songs and pictures; remote control; and much more. Clear spoken instructions, including street and place names: TomTom GO 910 speaks 36 languages in over 50 different voices and can even announce street and place names. Complete maps of the US, Canada, and Europe on hard disk: Door-to-door navigation across the US, Canada, and Europe. Easy to use: Extra wide 4" LCD touchscreen gives you smart design and easy to use navigation literally at your fingertips. Hands-free calling: Doubles as a hands-free car kit using Bluetooth® technology. So you can make & receive calls as you drive with just a touch of the screen.
Functionalities
TeleAtlas map data: Complete maps of the USA, Canada and Europe, all pre-installed on a 20 GB hard disk.
Start-up configuration: Customize how and where your GO opens up when you turn it on: last location, with a slideshow or your preferred chosen menu.
Huge choice: TomTom GO 910 speaks 36 languages in more than 50 different voices.
Bluetooth® connectivity: Connect your GO to your mobile phone, headset, car speakers or headphones hassle-free with Bluetooth® technology.
20 Gb hard disk: With 12 Gb free, TomTom GO 910 has enough space for thousands of your songs, photos, and more.
mp3 player: Play your stored music and audiobooks on the built-in mp3 player through the high quality GO speaker or via your car stereo, and even manage your music using the ingenious TomTom Jukebox.
Speaker options: TomTom GO 910's high quality speaker is perfect for listening to music or voice instructions. But you can also connect your GO to the car stereo using the audio cable we provide. Or use Bluetooth™ technology to connect your GO wirelessly to your car stereo, headphones or external speakers.
Text-to-speech*: TomTom GO 910 can announce street and place names and even read you out your text messages (text message reading on compatible phones, check here).
* Text-to-speech is currently supported in 8 languages: German, UK English, US English, Spanish, French, Italian, Dutch and Portuguese.
Remote control: You or a passenger can operate your GO from anywhere in the car. Making your journey easier and safer.
Photos: Load, store and preview photos from your digital camera. So when you're not navigating, you can enjoy a slide show of your favorite shots.
TomTom GO 910 comes ready for a wide range of TomTom PLUS services and downloads, including:
Audiobooks: Famous narrators will read the latest best selling books, magazines, and newspapers to you.
iPod® control: Connect your iPod® to your GO to operate it via your GO 910 touchscreen and enjoy mp3's or Podcasts through the high quality speaker or via your car stereo. TomTom GO 910 supports the iPod® 3rd and higher generation (except the iPod® Shuffle).
Safety cameras: Receive and report alerts when there are safety cameras coming up, fixed or mobile. (Europe only)
External microphone: To optimize the quality of your voice when you use your TomTom GO for hands-free calling.
Automatic pick-up: Can automatically answer your phone calls, for improved safety and comfort.
Hands-free car kit: TomTom GO 910 doubles as a hands-free car kit using Bluetooth® technology. So you can make & receive calls as you drive via your touchscreen.
Car speed linked volume: Built-in microphone notes the noise level in the car and adjusts the volume of voice instructions accordingly.
Hands-Free Calling and Hi-Fi audio:
Plug & GO: Works straight out of the box.
Portable: Easy to take from car to car.
Touchscreen: Easy to operate. And no awkward buttons!
Extra wide LCD screen: Four inch, high quality LCD screen with crystal-clear 3D graphics, 480×272 pixels, and 64,000 colors for optimal visibility.
Intuitive user interface: Combined with the large touchscreen, it gives you the perfect navigation experience.
Light sensor: Screen adjusts itself to different light circumstances, ensuring maximum visibility, day or night.
Anti-glare screen: Always gives an optimal view, even in direct sunlight.
TMC support: Access TMC* traffic information via your GO.
*Optional TomTom RDS/TMC traffic receiver required. (Coming Soon)
Realistic visual instructions: Visuals on your GO replicate road signs, making them easier to follow.
Real-time traffic & road condition information: Traffic jam alerts with the best alternative route and road condition warnings that help you put safety first. Free trial*, click here for offer and availability.
Quick GPS fix: If you use your TomTom GO in combination with TomTom HOME, your GO will download information about where the GPS satellites are going to be for the next seven days. With this information, your GO will be able to find your current position very quickly when it is first switched on. Click here for more info.
Real-time traffic: Up-to-the-minute traffic information, jam alerts and road condition warnings. Free trial, click herefor offer and availability.
Real-time weather reports: A real-time overview of the weather before you leave, including 5-day forecasts for the place you're going.
Home dock: Our easy-to-use home dock is the smart way to download from your PC or Mac, upgrade your GO, and manage your files, all while automatically charging your device.
TomTom HOME: Use TomTom HOME software in combination with the home dock to manage the files on your device (songs, photos, maps, etc), get new updates, plan and schedule journeys on your pc or Mac in advance, and much more.
Buddies: Find, invite and add friends to your GO. And even send each other text messages while you're on the road.
Buddies: Locate your friends. Instant messaging and navigation merge together.
Pre-installed Safety Cameras database: The most up-to-date available list of safety cameras is pre-installed on your GO. Click here for more information.
Clear & accurate spoken and visual instructions: Easy to follow, calm instructions given with plenty of notice mean that you can focus on your driving.
High quality connection: Echo cancellation and noise reduction give you excellent sound quality.
High quality Li-Ion battery: Long lasting, four hour battery life.
High quality speaker: Get voice instructions and enjoy songs and hands-free phone calls with remarkable sound quality at the volume you want.
Easy to use:
Points of Interest: Cafe, parking lot, movie theater or gas station. Millions of pre-installed POI's. Search by proximity to current location, on your route, near a specific city, etc.
POI's: Millions of extra POI's are downloadable.
Customizable status bar: Improve readability by customizing your status bar to show only the information you need.
Tip feature: Discover everything your GO has to offer with useful on-screen tips.
Extensive preferences: From temperature (C/F) to air pressure (Pascal or Mbar), and more.
Best routes:
Route choice: Plan your route to fit your requirements, such as: quickest, shortest, avoiding toll roads and congestion charge areas, by required arrival time, etc.
View routes: Preview and test your TomTom's proposed route before you start your trip.
Itinerary planning: Program in the schedule of places you want to visit before you leave the house.
Fast re-routing: Miss a turn or instruction and your TomTom instantly recalculates your route from your current location.
Easy location search and selection: Choose how you want to define your destination: street & house number, postcode (UK & NL only), city center or intersection.
Easy location search and selection: Choose how you want to define your destination: street & house number, postcode (UK & NL only), contacts, GPS coordinates, city center or intersection.
Clear instructions:
Compass: Displays compass on screen, for even better orientation.
Smart extras:
Fleet management: Professional users can also use their GO 910 for business or fleet management purposes. For more information, click here.
TomTom PLUS:
Maps: City, national and regional maps. Just download the areas you need.
Voices: Download funny and famous voices to bring variety and fun to your journey.
And much more: For more information on what is available and how it all works, click here.
Safety
TomTom is committed to make driving more safely on the roads. Our navigation systems encourage you to get from A to B as safely as possible:
Speeding alert: Alerts you that you're speeding, even if you're not in navigation mode.
Hands-free car kit: TomTom GO 910 doubles as a hands-free car kit using Bluetooth® technology. So you can make & receive calls as you drive via your touchscreen.
Technical specifications:
0″ widescreen WQVGA screen (480×272 pixels, 64,000 colors)
CPU 400 MHz
RAM 64MB
Lithium-Ion battery (four hours of operation)
20Gb Hard disk
High sensitivity GPS chipset
Dimensions: 4.2″ x 3.1″ x 2.5″
Weight: 12 oz.
Compatibility
Plus Services & Hands-free Calling
T-Mobile: Nokia 6103, Nokia 3660, Nokia 6600, Nokia 6620, HTC P3300, HTC TyTn, iMate JasJam, Sony Ericsson T610, Motorola V330*, Motorola V360*, Motorola RAZR V3, Motorola PEBL U6, Motorola RAZR V6, Motorola RIZR Z3,
Cingular: Sony Ericsson T637, Nokia 6620, Nokia 7610, Nokia 6230, Nokia 6600, Motorola RAZR 3, Motorola V551, Motorola MPX220, Audiovox SMT 5600**, Motorola ROZR E1**, Motorola SLVR L7, Sony Ericsson Z520a, Sony Ericsson Z525a, Nokia E62, Motorola L2
Only Hands-free Calling
Cingular: 8525, LG CU400, Sony Ericsson S710a, Imate SP3, Imate SP3i, Siemens SX66, SGH-i607, Blackberry 7290, Blackberry Pearl
Verizon: Audiovox XV6600, Motorola E815, LG VX8100, LG VX9800, LG VX8500, Motorola V710, Motorola RAZR V3m
T-Mobile: HTC P3300, HTC TyTn, iMate JasJam, Blackberry Pearl, Blackberry 8700g, Motorola KRZR, Motorola RAZR V6, Motorola RIZR Z3, Samsung T519 Trace
Nextel: Motorola 1605, Motorola i870, Motorola i880
*Only when configured using the Motorola V551 setup and choosing the T-Mobile III option
**Manual settings required
The listed devices are recognized and supported by TomTom GO700, GO510 and GO910. When another device is used, it might be necessary to set up the connection manually. Consult our Support pages for instructions
Supported languages
The user interface/application comes in the following languages:
Czech, Danish, German, Estonian, U.K. English, U.S. English, French, Italian, Spanish, Latvian, Lithuanian, Dutch, Norwegian, Polish, Portuguese, Finnish, Swedish, Turkish, Flemish, Slovakian, Catalan and Hungarian.
Spoken navigation instructions come in the following languages:
Flemish, Bulgarian, Czech, Chinese Mandarin, Chinese Cantonese, Danish, German, Estonian, U.K. English, U.S. English, Australian English, Spanish, Latin-American Spanish, French, Greek, Hungarian, Italian, Japanese, Latvian, Lithuanian, Malay, Dutch, Norwegian, Polish, Portuguese, Romanian, Russian, Slovak, Serbian, Finnish, Swedish, Thai, Catalan, Croatian, Brazilian Portuguese, and Turkish.
Text-to-speech comes in the following languages:
German, U.K. English, U.S. English, Spanish, French, Italian, Dutch, and Portuguese
TomTom GO 910 – In the box
TomTom GO 910. Extra wide touch-sensitive LCD screen, power (On/Off) button, release button (for removing TomTom GO 910 from its docking).
Remote control. So you can operate your TomTom GO from anywhere in the car.
3. Carry case. To store your TomTom GO when it's not in your vehicle.
Home dock. For easy connection of your GO to your PC or Mac and charging your GO in the convenience of your house or hotel. Comes with dock, USB cable and home charger.
5. Car charger. 12-24V cigarette lighter adapter that can also be used in trucks. So you can charge your GO even as you drive.
Windshield mount. To attach your TomTom to your windshield
External microphone. To optimize the quality of your voice when you use your GO for hands-free calling.
8. Audio cable. For connecting your GO to your car stereo.
9. Home charger. For charging your GO at home before your journey.
Documentation pack. Contains quick start guide, accessory leaflet and cd.
Product code card. For registation of your unit online at www.tomtom.com