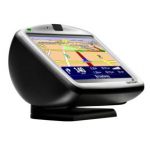 TomTom's Go 510 seems to have a few bugs. The good points are that it does have a 4 inch extra wide LCD touch screen. Navigation is as easy as putting your destination information on the screen by touching it, and then watching it display your results. It also does have Bluetooth technology, and this seems to be becoming a major factor when purchasing a GPS device. The hands free calling feature is a good one when driving.
Some users complain that the display is not quite large enough. For a wide screen display, you would expect the lettering to be quite larger. Brightness is another thing, in direct sunlight, the Go510 is almost impossible to see.
The mounting system causes a problem all its own. The button on the system's front, for releasing the system from the windshield mount seems not to work properly every time.
The windshield mount works well when you remember to retract the clamping ring when setting the suction cup, and then to tighten the clamping ring fully, and it is fairly easy to get it into the mount once you learn to put it into the stem deep enough.

The maps seem to be highly outdated. Some 5 or 6 years, to be exact. Of course, you can upgrade the maps for an additional fee. The maps are stored on the SD card, and the card pops in an out of the system with the slightest touch. When adding or removing the system from a vehicle, it is possible to accidentally remove the card and it is small enough to be easily lost.
The Go510 does come full loaded with maps, and is basically ready to use right from the box. There's no pouring over the information learning how to use it. The learning curve is practically non-existent. And it does have all the extras, such as Bluetooth, drag able maps, alternate routes, touch screen operations, and even a weather system that will inform you of the upcoming weather in your destination choice for up to five days.
Overall, the TomTom Go510 is a helpful, compact device for your journey. It can be moved from vehicle to vehicle, which makes it very convenient if you have more than one vehicle to use it in, or if you plan to rent a car on a trip. Even with all the minor glitches, it is still a good device to get you where you need to go accurately.
Highlights
Easy to use: Extra wide 4" LCD touchscreen gives you smart design and easy to use navigation literally at your fingertips. Hands-free calling: Doubles as a hands-free car kit using Bluetooth® technology. So you can make & receive calls as you drive with just a touch of the screen.
Detailed maps of the United States and Canada on SD card: Door-to-door navigation across the USA and Canada.
Clear spoken instructions: Speaks some 36 languages in over 50 different voices. Smart extras: iPod® control, home dock, and much more.
Functionalities
Easy to use:
Real-time weather reports: A real-time overview of the weather before you leave, including 5-day forecasts for the place you're going.
Hands-Free Calling and Hi-Fi audio:
Clear & accurate spoken and visual instructions: Easy to follow, calm instructions given with plenty of notice mean that you can focus on your driving.
Plug & GO: Works straight out of the box. View installation movie
Portable: Easy to take from car to car.
Touchscreen: Easy to operate. And no awkward buttons!
Extra wide LCD screen: Four inch, high quality LCD screen with crystal-clear 3D graphics, 480×272 pixels, and 64,000 colors for optimal visibility.
Real-time traffic: Up-to-the-minute traffic information, jam alerts and road condition warnings.
Safety cameras: Receive and report alerts when there are safety cameras coming up, fixed or mobile. (Europe only)
Points of Interest: Cafe, parking lot, movie theater or gas station. Millions of pre-installed POI's. Search by proximity to current location, on your route, near a specific city, etc.
POI's: Millions of extra POI's are downloadable.
Best routes:
Complete TeleAtlas map data: Detailed maps of the US and Canada pre-installed on an SD card.
Route choice: Plan your route to fit your requirements, such as: quickest, shortest, avoiding toll roads and congestion charge areas, by required arrival time, etc.
Clear instructions:
Huge choice: TomTom GO 510 speaks 36 languages in more than 50 different voices.
Compass: Displays compass on screen, for even better orientation.
Smart extras:
I-pod control: Connect your I-pod to your GO* to operate it via your GO 510 touchscreen and enjoy mp3's or Podcasts through the high quality speaker or via your car stereo. TomTom GO 510 supports the I-pod 3rd and higher generation (except the I-pod Shuffle).
TomTom PLUS:
Voices: Download funny and famous voices to bring variety and fun to your journey.
Safety
TomTom is committed to make driving more safely on the roads. Our navigation systems encourage you to get from A to B as safely as possible:
Speeding alert: Alerts you that you're speeding, even if you're not in navigation mode.
Technical specifications:
0 inch widescreen WQVGA screen (480×272 pixels, 64,000 colors)
CPU 400 MHz
RAM 64MB
Lithium-Ion battery (4 hours operation)
1 Gb SD card
Highly sensitive GPS chipset
Dimensions: 4.2″ x 3.1″ x 2.5″
Weight: 10.5 OZ
Compatibility
Plus Services & Hands-free Calling
T-Mobile: Nokia 6103, Nokia 3660, Nokia 6600, Nokia 6620, HTC P3300, HTC TyTn, iMate JasJam, Sony Ericsson T610, Motorola V330*, Motorola V360*, Motorola RAZR V3, Motorola PEBL U6, Motorola RAZR V6, Motorola RIZR Z3,
Cingular: Sony Ericsson T637, Nokia 6620, Nokia 7610, Nokia 6230, Nokia 6600, Motorola RAZR 3, Motorola V551, Motorola MPX220, Audiovox SMT 5600**, Motorola ROZR E1**, Motorola SLVR L7, Sony Ericsson Z520a, Sony Ericsson Z525a, Nokia E62, Motorola L2
Only Hands-free Calling
Cingular: 8525, LG CU400, Sony Ericsson S710a, Imate SP3, Imate SP3i, Siemens SX66, SGH-i607, Blackberry 7290, Blackberry Pearl
Verizon: Audiovox XV6600, Motorola E815, LG VX8100, LG VX9800, LG VX8500, Motorola V710, Motorola RAZR V3m
T-Mobile: HTC P3300, HTC TyTn, iMate JasJam, Blackberry Pearl, Blackberry 8700g, Motorola KRZR, Motorola RAZR V6, Motorola RIZR Z3, Samsung T519 Trace
Nextel: Motorola 1605, Motorola i870, Motorola i880
*Only when configured using the Motorola V551 setup and choosing the T-Mobile III option
**Manual settings required
The listed devices are recognized and supported by TomTom GO700, GO510 and GO910. When another device is used, it might be necessary to set up the connection manually. Consult our Support pages for instructions
Supported languages
The user interface/application comes in the following languages:
Czech, Danish, German, Estonian, UK English, US English, French, Italian, Spanish, Latvian, Lithuanian, Dutch, Norwegian, Polish, Portuguese, Finnish, Swedish, Turkish, Flemish, Slovakian, Catalan and Hungarian.
Spoken navigation instructions come in the following languages:
Flemish, Bulgarian, Czech, Chinese Mandarin, Chinese Cantonese, Danish, German, Estonian, UK English, US English, Australian, English, Spanish, Latin American Spanish, French, Greek, Hungarian, Italian, Japanese, Latvian, Lithuanian, Malay, Dutch, Norwegian, Polish, Portuguese, Romanian, Russian, Slovak, Serbian, Finnish, Swedish, Thai, Catalan, Croatian, Brazilian Portuguese and Turkish.
What's in the Box
TomTom Go 510 GPS navigator, SD card, carrying case, home dock, car charger, windshield dock, external microphone, product code card, documentation pack (with quick-start guide, accessory leaflet, and CD), user's manual.