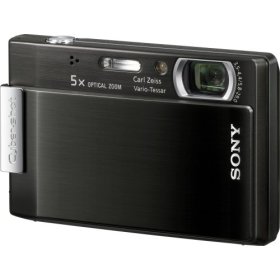 The Sony Cyber-shot DSC-T100 camera is ultra thin that makes it look extremely stylish. The T100 is available in sultry silver and pure jet-black outer case. The front face of the T100 has sliding panel that covers the lens when not in use and on this panel is a shiny metallic strip that stands out from the body with the Cyber shot logo. The top of the T100 has the shutter release button. The hind surface of T100 has the power button along with the playback button, zoom rocker, menu button, d-panel and home button. It is powered with 8.1-megapixel resolutions, high-powered 5x optical zoom lens, Double Anti-Blur Solution and a large 3.0-inch LCD screen in its compact size. The pictures are clear, with little to no white spotting and true to life colors.
Even the sharpness and contrast with image quality leaves one astonished. Since, the lens is bigger, it works very well in poor light conditions. Various useful features like the face Detection technology, in-camera retouching and red-eye reduction, D-Range Optimization, and 9-Point AF make way for a fulfilling experience for professional photographers. The shots are steady due to strong mage stabilization feature. The HD output allows users to view images in high-definition clarity on the compatible HDTV screens.
The T100 permits zooming in movie mode also. Also, the movies are saved in MPG format rather than QuickTime. The T100 has a 5x optical zoom, 8.5xHD smart zoom, 10x digital zoom and up to 25x smart zoom. The Smart zoom is a relatively technology that Sony has launched which enables users to zoom into certain parts of an image that they want to retain and discard the rest of the image. The T100 has double anti-blur technology, which combines Sony's Super Steady shot and a high sensitivity of 3200 ISO ensuring crisp and sharp images. The various feature buttons have been replaced by software driven menus. Options from these software driven menus are difficult to select and takes long time. Battery life is one area of improvement with Cyber Shot DSC T100.

Product Description
The Sony DSC-T100 delivers an effective 8 megapixel still resolution for incomparably detailed still pictures. It also lets you take movies with sound. But what's really amazing is how small and light this high-performance, easy to use camera is. Enjoy 5x zoom from wide-angle to telephoto imaging. A large, bright LCD screen for viewing shots. Sony's Steadyshot image stabilization that virtually eliminates blur resulting from normal hand movements when taking pictures. What we've got here is professional quality that's friendly for everyday, anytime use here or when you're travelling there.
The DSC-T100 from Sony is what you should be taking along. Electronic-flash with in-camera red-eye reduction Edit on the fly with in-camera photo retouching and special effect modes 8.1 Megapixel effective for up to JPEG resolution 3264 x 2448 stills with exquisite detail 16 – 9 widescreen photo mode (1920 x 1080) to fill widescreen displays of new HDTV screens And it goes beyond stills! DSC-T100 has MPEG Movie VX with audio (to 640 x 480 at 30 frames per second) – like having a built-in camcorder In-camera slide show High-definition still picture output to compatible HDTVs (requires optional Sony VMC-MHC1 adapter) 31MB built-in flash memory (holds approximately 7 shots at highest resolution) – compatible with Memory Stick(R) Duo and Memory Stick(R) PRO Duo for more practical, portable use 9 scene modes, including Beach, Fireworks, and Twilight; High Sensitivity mode for low-light shooting without flash with variable ISO settings Macro mode (focus as close as 3-1/8 from subject) and Magnifying Glass mode (7/16 from subject) USB connectivity PictBridge compatible An A/V output for connection to a TV Unit Size 3-1/2W x 2-1/4H x 7/8D; Weight (without battery or media) – 5.0 ounces Comes with rechargeable InfoLithium(R) battery (NP-BG1)
Technical Details
8.1-megapixel Super HAD CCD captures enough detail for photo-quality 16 x 22-inch prints
Carl Zeiss 5x optical zoom lens; 3.0-inch LCD display
High Sensitivity Mode (ISO 3200) allows for shooting even in low-light conditions
MPEG Movie VX Fine mode captures VGA (640 x 480) audio/video clips at high frame rate
HD output; HD slide show with music feature