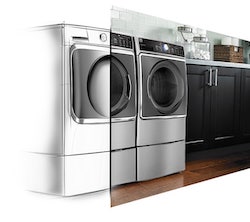 Sears Holdings announced today the launch of Kenmore products on Amazon.com, as well as the integration of the full line of Kenmore Smart appliances with Amazon Alexa. This marks the broadest distribution of Kenmore, America's most trusted home appliance brand, outside of Sears branded stores and related online retail platforms. Kenmore Smart connected room air conditioners integrated with Alexa are now available on Amazon.com. The distribution on Amazon.com is planned to be expanded to the full line of Kenmore home appliances in all U.S. market segments, with Kenmore, Sears Home Services, and Innovel Solutions providing white-glove service for delivery, installation and extended product protection for a full range of home appliances.
"We continuously look for opportunities to enhance the reach of our iconic brands to more customers and create additional value from our assets," said Edward S. Lampert, Chairman and Chief Executive Officer of Sears Holdings. "The launch of Kenmore products on Amazon.com will significantly expand the distribution and availability of the Kenmore brand in the U.S. At the same time, Sears Home Services and our Innovel Solutions unit will benefit from the relationship as more customers experience their quality services for Kenmore products purchased on Amazon.com."
The Kenmore Smart skill for Amazon Alexa enables customers to control their Kenmore Smart home appliances by simply asking Alexa, such as changing the temperature on their air conditioner without leaving the sofa by saying: "Alexa, tell Kenmore Smart to set my air conditioner to 70 degrees." Customers can enable the Kenmore Smart skill in the Alexa Skill Store, link their account and then begin asking Alexa to interact with their Kenmore Smart appliances.
"Voice is a natural interface for the smart home, so we're thrilled that customers can now simply ask Alexa to interact with their Kenmore Smart appliances," said Charlie Kindel, Director of Alexa Smart Home. "We're excited that Kenmore has added Alexa functionality to these products and we think customers will love the convenience of cooling their home, starting their laundry, and more, using only their voice."
"Working with Amazon is perfectly aligned with our omni-channel strategy to unleash the power and service of Kenmore and support the brand's growth," said Tom Park, President of Kenmore, Craftsman and DieHard brands at Sears Holdings. "This collaboration is the first of its kind for Kenmore, broadening its accessibility to the next generation of American families outside of Sears branded retail channels."