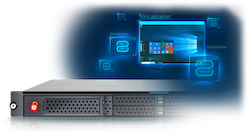 IDrive Online Backup continues to upgrade IDrive BMR with new features, helping make it the most cost-effective bare-metal restore appliance for onsite disk-image backup.
Virtualization
New to IDrive BMR, virtualization allows users and IT administrators to easily backup images of their entire system locally to the appliance for recovery to a new machine in case the original machine is compromised or destroyed.
Specific to IDrive, the virtualization feature enables users to create up to four virtual instances of their clients and store them locally on the BMR server. Users can access these instances and resume working without losing any data in case of any disaster. IDrive BMR uses top of the line hardware, with server grade Xeon E5 processor with 16GB RAM for ultimate performance.
For businesses, the main benefit of virtualization with IDrive BMR is reduced recovery time in the event of a disaster. Even if a business's main hardware fails, the BMR appliance can instantly and accurately migrate data to working hardware so they can pick up working where they left off. Typically, the virtualized machine will be up and working within 30 seconds, drastically minimizing downtime when recovering from a disaster.
Web Remote Access
Also new to IDrive BMR, Web Remote Access enables users to access the server interface from any external network. This allows administrators to easily manage their local backup operations and cloud replications of their local backups from anywhere without having to be on the same network as the BMR device.
With the addition of these new features, IDrive continues to be on the cutting-edge in the business backup space, all while offering the most cost-effective local virtualization solution on the market.
IDrive Vault (BMR) starts at 6TB and comes with 6TB of cloud backup included, contact IDrive sales for pricing information.