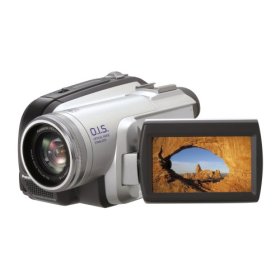 The Panasonic PVGS80 is best suited for entry-level photographers. It serves all the major purposes of a video recorder and basic purposes of still photography. It is affordable and offers great picture quality given the inexpensive price range. The PVGS80 is simple to learn and operate. The PV GS80 has an easy grip and durability combined with a compact design that can let the users stop worrying about its safety. The users can change setting and other options with the help of a single touch of joystick navigation. The PVGS80 has a fire wire feature for video editing. Even the image stabilization feature works very well in producing quality videos assisted by zooming and panning options apart from preventing the blurry images. The LCD is fairly large to display bright and clear graphics.
However, the LCD mode eats up a lot of precious battery life therefore, it is advised to use the viewfinder mode for extra battery life. However, the battery pack has to be removed to access the fire wire port that can be a big disruption with the camera turned off. To keep running the camera while using the fire wire port the camera needs to be plugged in to the power port in the wall. The camera in its operation mode is relatively quiet and doesn't fill the audio with intermittent clicking noises while recording. The PV GS80 works well in proper lighting but not in poor light conditions. The firewall cable need to be purchased separately as it doesn't come bundled with the camera purchase. However, the still shots do not come out very good with Panasonic PVGS80. The image quality is relatively poor with average color display. Therefore, this camera is suitable for entry-level ideography but not still photography. It does fall in the point and shoot camera but best suited for video shooting.

Product Description
When you carry the tiny Panasonic PV-GS80 Palmcorder Camcorder with you, you'll capture every unique moment on film. This amazingly small and sharp digital camcorder gives you clear, sharp, stable photos and video. The optical image stabilizer and 32x optical zoom ensure you always get the best shot. Professional tools like a noise reducing microphone, low-light shooting (with MagicPix) and white balancing make this little camcorder competitive with bigger models. When you see how compact it is, you'll wonder why you bought anything else. It's the Palmcorder that does it all. 16 – 9 Wide Mode recording Digital Zoom – 32x – 1,000x Records to MiniDV tape Stereo Zoom Mic with wind noise reduction Backlight compensation Functions as a webcam White Balance – Auto/Indoor/Outdoor/Manual Minimum Illumination – 2 Lux (with MagicPix) Manual Focus Ring Soft-Skin Mode Date Recording Recording Modes – SP/LP Still Picture Size – 640 x 480 (4 – 3), 640 x 360 (16 – 9) DPOF – Max. 999 stills Languages – English / French / Spanish Mini DV in/out Accessory Shoe – Cold Dimensions(HxWxD) – 3.09 x 2.86 x 5.36 Weight – 1 lb.
Technical Details
Features 32x optical zoom
Pure Color Engine
Large 2.7-inch widescreen LCD
One-Touch Navigation for easy, intuitive setting and shooting
Web Camera function