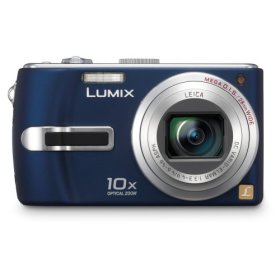 The DMC-TZ3 has a plush stainless steel metal outer case in cool ble for extended durability and is a ultra compact pocket camera. The 28mm wide-angle 7.2 mega pixel lens is a very useful feature and allows to capture group images and expansive architectures. The in between shots time is very less and the extended 15x optical zoom can magnify distant objects to a large extent coupled with the powerful processor and large sensor.
The noise has been drastically reduced, the lens is better, the sensor is bigger with intelligent ISO settings and the processor is not only faster, but produces better pictures. The TZ3 features Mega Optical Image Stabilization for hand shake and works well in low light conditions also. It is supported by the intelligent ISO motion blur for capturing moving objects clearly.
The handy function capability allows quick access to most used settings without having to navigate through the menus every time. The lens comes with a built in lens cover. However, the TZ3 does not allow zooming while shooting the video but can be set before the start of shoot. There are no manual controls on TZ3 but they are hardly required. On the data transfer front the TZ3 fairs extremely poorly with extremely slow transfer rate even for 2 GB of data. The picture quality with TZ3 is crisp in various light conditions and even poor light. The colors are sharp, vivid and true to life. There is a variety of AF settings, settable focal points, and focus modes.
There is also exposure compensation along with a live histogram. Some handy travel features include the Travel Date Setting, which, once the users have preset the date of the departure, records and displays the images in chronological order of the trip, and the World Time Setting, which lets the user set the times and dates for 74 locations around the world. There is a direct print Mode that can bypass the need of a PC and can directly print images on the pictBridge enabled printer. Overall, a sturdy and compact camera with 15x optical zoom.

Product Description
The DMC-TZ3 has been given a more luxurious touch with its stylish design and metallic, stainless steel exterior. The DMC-TZ3 features a 28mm wide-angle 10x optical zoom Leica DC lens (equivalent to a 28mm-280mm zoom on a 35mm film camera) in an ultra-compact body. With the high-power 10x optical zoom, you can get clear and beautiful shots even when you can't get close to your subject. The 28mm wide-angle lens lets you easily capture large groups of people indoor or expansive architectural structures and scenes.
The 10x optical zoom lets you easily capture and magnify distant subjects. 3.0-inch Polycrystalline TFT LCD (230 K Pixels) Field of View – 100% Power LCD Mode, High Angle Mode ISO Sensitivity – Auto, 100, 200, 400, 800 and 1250 (High Sensitivity Mode – 3200) Li-ion Battery Life (3.7 V, 1,000 mAh) – 270 pictures Shutter Speed – 8 – 1/2000 seconds Starry Sky Mode – 15, 30 & 60 seconds Wide Aperture – F3.3 / F8.0 (2 steps) Tele Aperture – F4.9 / F11 (2 steps) Self-Timer – 2 & 10 seconds Scene Mode – Portrait, Soft Skin, Scenery, Sports, Night Portrait, Night Scenery, Self-portrait, Food, Party, Candle, Fireworks, Starry Sky, Beach, Aerial Photo, Snow, High Sensitivity, Baby1, Baby2, Underwater, Sunset and Pet Dimensions – Width 4.20 x Height 2.37 x Depth 1.47 inch (105.0 x 59.2 x 36.7 mm) Weight – 257 grams with Battery and SD Memory Card (0.57 pounds)
Technical Detail
7.2-megapixel CCD captures enough detail for photo-quality 15 x 20-inch prints
10x image-stabilized optical zoom; 3.0-inch LCD display
Intelligent ISO Control (I.I.C.) reduces image blur from subject movement and low light
Records full-size movies in wide-aspect VGA (848 x 480) at 30 frames per second
Stores images on SD/SDHC/MMC memory cards