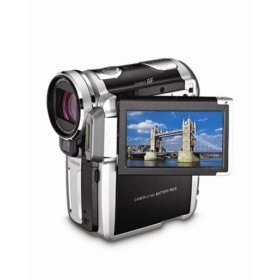 The HV 10 is a slim and compact pocket camcorder that produces high definition pictures with amazing clarity. Its 10x optical zoom lens and 2.96 Mega pixel CMOS image sensor ensure meticulous detail and superior color reproduction. Its ease of use combined with the HDV MPEG-2 standard support for recording in either HD or regular mode onto MiniDV tapes along with the standard miniDV tapes makes it instantly popular. The tapes lasts quite long for recording and can be replayed easily due to the MPEG 2 standard. There is a photo snap button on the case that allows users to click photographers while in the video shooting mode.
The dual Auto Focus locks on to the subject real quick with almost 100% accuracy every time. The LCD screen display is clear and crisp with great color saturation and vividness that works fairly well even in the brightest of sunlight. The HV10 allows Contrast, Sharpness, Brightness, and Color Saturation picture adjustments to suit the preferences of the photographers. The Super Optical Stabilization features works well keeping in mind the small size/vertical orientation of the camcorder. The Built-in light feature improves the picture quality when filming in poor light conditions. The recording is excellent in bright light but the image quality in low light conditions is relatively poor.
There are no external light or mic jacks with HV10 and it it does not support HDMI output. Though the camera is designed to fit well in on hand, it may be difficult to hold for some who have larger hands. The buttons are within the easy reach of a single hand but are relatively small to be operated easily. The tapes cannot be changed when the camcorder is mounted on the tripod because its tape feed is at the bottom. The battery life is average and the batteries ask for a replacement for longer duration of video shooting. Overall, the HV10 is a excellent value for money proposition and a quality mini camcorder for travel purpose.

Product Description
Do you have or plan to have an HDTV at home? Now it's time to consider getting an HD camcorder. The stylish Canon HV10 gives you the ultimate in HD video and digital photo quality – in the world's smallest HDV camcorder. Its 10x optical zoom lens and 2.96 Megapixel CMOS image sensor ensure meticulous detail and superior color reproduction. And, with its HD and Standard Definition recording modes, you can make the move to HD without making your SD equipment obsolete. If you're an expecting parent or an avid traveller, this video camcorder gives you the opportunity to record images in both 4:3 standard and 16:9 widescreen modes from 480 to 1080p display. The small size makes it easy to carry from one place to another.
This camcorder is engineered for you and discretning videographers. It is the first consumer-level camcorder that features Canon's Super-Range Optical Image Stabilization to help deliver smooth, steady video, even at longer focal lengths. The system uses two detection methods (gyro and vector) to sense the widest range of vibrations from hand-held shake, to vibration from a moving vehicle. By using optical stabilization, it can compensate for a greater degree of camera shake and avoid any loss in image quality, unlike electronic image stabilizers. CMOS sensor assures single sensor HD and longer battery life. Unit Dimensions – 2.2 x 4.1 x 4.2 inch / Weight (not including lens and battery pack) – 0.97 lb The HV10 is easy to use and delivers the high level of performance you've come to expect from Canon. It's the premium quality camcorder that sophisticated and discerning videographers have been waiting for.
Technical Details
HDV camcorder with 1/2.7-inch CMOS image sensor
High-definition 10x optical zoom lens; super-range optical image stabilizer
Advanced photo features: up to 3-megapixel stills, histogram display, built-in flash, and more
2.7-inch color widescreen LCD; color viewfinder
Easy one-hand operation; ultra-compact and lightweight