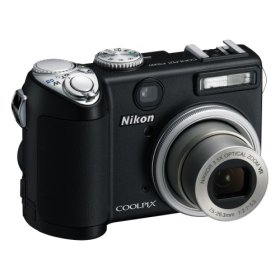 The Nikon Coolpix P5000 is a lightweight, sophisticated pocket camera with a sturdy design and lot of advanced automatic features that help in improving the image quality and delivers the best of pictures. It provides crisp, clear, beautiful images in auto mode. But, it also allows the users manual control and versatility with the preset modes and the manual modes. For a pocket camera, the functions of this coolpix can be easily accessed by the buttons or dials laid out on the panel.
It has full manual controls and noise levels are very good for a 10 MP camera. The VR stabilizing function works really nicely. It performs well in poor light conditions too. There's a programmable function button that gives the users a short cut to the screen that has presets of most to the situations that they would be shooting in. Besides, they're a considerable amount of improvement in the shutter speed too. The photographers can now look forward to simultaneous shots with little or no time lapse.
There are some extremely handy and cool features bundled with the coolpix that well justify its name. They include audio voice recorder and subsequent playback with built in speaker, the best shot selector feature that selects the sharpest image automatically from a series of images, auto image rotation for portrait and landscape picture display on LCD screen and the in camera cropping feature that lets the users crop part of the images. However, there are some performance lags observed with coolpix P5000 including the small aperture that can cause more of image blurriness, the auto white balance that sometimes work, sometimes not, the noise at high ISO settings and the average to poor visual quality in the movie mode especially in low light.
The portability, image quality, add-on lenses, shoe for a speed light flash, price, are best of Nikon quality and render this camera a great choice for someone looking for the most versatile small digital camera that they can desire of.

Product Description
The CoolPix P5000 features advanced functions that are skillfully packed into a solid body, magnesium alloy front panel for durability in a lightweight package. The CoolPix P5000 includes an optical viewfinder to helps achieve accurate composition in direct sunlight and other brightly lit conditions helping you capture sharp images while minimizing the effects of camera shake. The CoolPix P5000 features 16 specially programmed modes to automatically handle focus, exposure, white balance and other adjustments that help you take great pictures easily.
High light sensitivity up to ISO 3200 allows you to tackle scenes and situations far beyond the capabilities of conventional compacts, offering new power to capture fast-moving objects with outstanding clarity and gives you great exposure in significantly lower light. 3.5x Optical Zoom-Nikkor 7.5-26.3mm (35mm format picture angle – 36-126mm), f/2.7-5.3, 7 elements in 6 groups 4x Digital Zoom (35mm format picture angle – 504mm) ISO Sensitivity – 64, 100, 200, 400, 800, 1600, 2000, 3200, Auto (auto gain ISO 64-800) Built-in flash – Wide Range 1 to 26 feet 3 inch (0.3 to 8.0m), Tele Range 1 to 13 feet 1 inch (0.3 to 4.0m) System Requirements – Macintosh Mac OS X version 10.3.9, 10.4.x, Windows Vista (32bit), Windows XP Home Edition/Professional and Windows 2000 Professional Dimensions – Width 3.9 x Height 2.5 x Depth 1.6 inch (98 x 64.5 x 41 mm) excluding projections Weight – 7.1 ounces (200 grams) without battery and SD memory card.
Technical Details
10-megapixel CCD captures enough detail for photo-quality 20 x 30-inch prints
3.5x Zoom-Nikkor lens; 2.5-inch LCD screen with optical viewfinder
Optical vibration reduction/image stabilization minimizes effects of camera shake
Progrram, Aperture, Shutter, and Manual Exposure modes
Hot shoe for i-TTL compatible Nikon speedlights