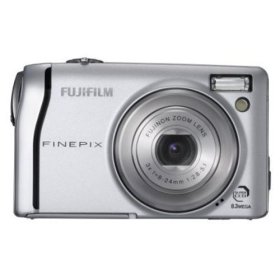 The Fuji film finepix F40fd is an elegant looking camera with its silver scratch resistant outer case. It is extremely lightweight pocket point and shoot camera that also packs the picture quality of an SLR. The camera has a comfortable grip, multiple exposure modes, auto & manual focus, 8 white balance modes (including a custom hold mode) and a six-mode popup flash. This camera takes bright, vibrant pictures indoors, and the 10x optical zoom is amazing. The user interface is extremely easy to learn and navigate.
The camera supports dual media slots (SD/MMC and xD-Picture Card) to provide more storage options. It provides compatibility with different media modes and allows users to use maximum of these. The 2.5-inch LCD display helps the photo shooters capture each image perfectly. The Fuji film's Picture Stabilization technology utilizes the heightened sensitivity of the FinePix F40fd at ISO 1600 and high-speed shutter settings to prevent camera shake or freeze subject movement, reducing blur to a large extent. This easy to access feature let's the finepix choose the correct light sensitivity and best-matching shutter speed by itself, for the highest quality digital pictures. The flash fine-tunes the flash output for shooting with high-sensitivity settings and pops up automatically when required.
It recognizes scene conditions and determines the optimum flash output to ensure optimum lighting. The subjects in the foreground appear natural and the background detail is bright and clear. The images are vivid and sharp. The zoomed images to 3X are also sharp in the Auto mode. The finepix does a lot of auto settings that leaves the photographers little to do on the adjustment front and lets them enjoy the photographic experience to a maximum. The Fuji film finepix F40fd combines the power of an SLR and the ease of use of a point-and-shoot. It is well suited to amateurs and intermediate photographers alike.

Product Description
With the Fuji FinePix F40FD, every picture is a keeper. This 8.3 megapixel camera gives you high-quality, high-resolution photos you can enlarge & edit easily. ISO2000 provides the sensitivity you need for bright, crisp, clear pictures — even when your subject is moving fast in low light. Its advanced face detection feature looks for & finds up to 10 faces in your shot – then sets the focus and exposure to take the best portrait shot. The 2.5″ LCD monitor lets you take that perfect shot with ease & confidence. Intelligent Flash delivers ideal exposure in most lighting conditions. Picture Stabilization prevents blur caused by camera shake.
All you need for better digital photos is right here, in the Fuji FinePix F40FD Digital Camera. Intelligent Flash IrSImple for wireless communication Video recording – 640 x 480 resolution, monaural sound Internal memory – 10MB Storage formats – xD-Picture Card (16MB-2GB); SD card Interface – USB 2.0 Picture Stabilization mode Video output – NTSC & PAL USB 2.0 PictBridge compatible Slim, stylish form factor Power – NP-70 lithium-ion battery; AC power adapter Dimensions – 95.7 x 59.0 x 23.3 mm Weight – 5.2 oz. (155 g)
Technical Detail
8.3-megapixel CCD captures enough detail for photo-quality 16 x 22-inch prints
3x optical zoom; 2.5-inch LCD display
Face Detection Technology; up to 2000 ISO at full resolution
Real Photo Technology; Picture Stabilization; i-Flash (intelligent flash); Dual Shot mode
Stores images on xD Picture Cards or SD memory cards (includes 10MB internal memory); powered by Li-Ion NP-70 battery (included)