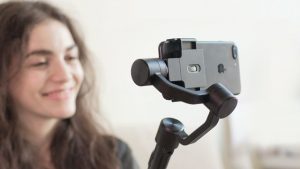 Smartphone cameras are getting powerful nowadays, yet taking smooth, cinematic videos is still something that belongs to professional cameras. Smartphone gimbals are made to bridge this gap. Now a new player emerged in Kickstarter, with many claimed features to outshine its competitors — it's LitleCane.
Launched on Jan. 19th morning, LitleCane is a normal looking gimbal at first glance. Features include video stabilizing, auto track, HD panorama, and the ability to charge your phone while being charged at the same time.
Auto Track
LitleCane claimed its Auto Track function to save you a lot of effort when you want to keep the subject within the frame. It supports both front and rear camera, and resolution of up to 4K. Users can also turn it on while livestreaming.
Single Hand Friendly
The rich controlling methods comes as another appealing feature. There are 2 3-step buttons and a clickable joystick to be found on the controlling panel, which can do front/rear camera switch, video/photo mode switch, zoom in/out, or switch between following modes.
LitleCane is capable of automatically adapting to your holding position, and switch among standard, portrait and underslung position. Users can also turn it off to keep it in its upright position, then make a seamless shift from very low to very high angle.
HD Panorama
LitleCane can panoramas of 180 and 330 degrees, by putting together 5 and 9 1080p photos respectively, while maintaining the result unreduced in resolution. It can also mix 12 photos in two rows, to create a panorama of wide angle.
Charging Ability
There's no need to worry about battery life. The integrated battery has up to 3 hours of battery life. If that doesn't fit your appetite, the gimbal can work while being charged from an external power source. What's surprising is that the rig can also charge the phone while being charged.
In their colorful project description, features like low light environment ability, motion time lapse, and accessories including a GoPro adapter, a base, and a hand strap can also be found.
With these useful, and somewhat professional features embedded, LitleCane clearly wants more than other smartphone gimbals, and that is to make smartphone a bigger role in creating professional contents. They seems so dedicated into this that they provide a USD99 low price for early bird backers on Kickstarter.