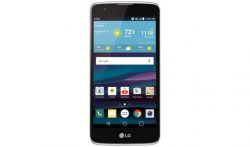 A new addition is coming to the 4G LTE prepaid smartphone lineup from AT&T.1
On March 10, AT&T GoPhone customers can buy the LG Phoenix® 3 for $79.99 online at att.com, or in one of the 5,000+ AT&T stores or at authorized retailers.
The new LG Phoenix 3 maintains the same distinct curved and slim design as earlier versions. It offers a 5-inch FWVGA display, runs on the Android Marshmallow operating system and has 16 GB of storage. It also has a quad core processer and a 2500mAh battery. The combination of these advanced capabilities makes it the perfect device to watch videos, surf the web or answer emails.
The LG Phoenix 3 features a 5 megapixel camera on both the front and back. The rear-facing touch and shoot camera lets you shoot high-quality pictures by tapping anywhere on the display. The front-facing camera offers a selfie light to help you capture the right angle and lighting when it's time to take the perfect selfie.
For more information on the LG Phoenix 3 visit att.com.
1 AT&T products and services are provided or offered by subsidiaries and affiliates of AT&T Inc. under the AT&T brand and not by AT&T Inc.