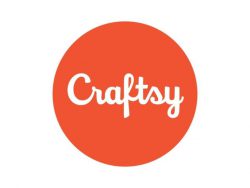 Craftsy, the preeminent online destination where more than 11 million passionate makers come to learn, create and share, today announced a strategic partnership with The Michaels Companies, Inc. to bring its innovative learning platform to Michaels' extensive network of artists, crafters, decorators and DIY hobbyists. This exclusive retail partnership allows Michaels to leverage Craftsy's growing video library of more than 1,300 on-demand classes and expert instructors, providing retail customers access to a comprehensive maker experience inclusive of inspiration, empowerment, and unrivaled product selection.
"Craftsy's mission has always been to fuel creativity and joy by providing enthusiasts a curated, interactive learning platform, as well as providing the products they need to bring their inspiration to life," said John Levisay, CEO and Founder, Craftsy. "Our partnership with Michaels takes this mission one step further by expanding Craftsy's product offerings with Michaels' unmatched DIY merchandise, giving our students an even broader canvas to express themselves and bring their creative visions to life."
Through the partnership, Michaels customers will receive exclusive offers to access the Craftsy education community, while Craftsy members will now have access to expanded product offerings from the world's largest crafts supply retailer, in popular areas such as Art, Jewelry, Paper Crafts and more. Customers for both companies will be able to take advantage of the new partnership by late Spring 2017.
"Michaels and Craftsy have a shared vision for fostering and facilitating creativity, which makes for an ideal partnership," said Steve Carlotti, EVP – Marketing, The Michaels Companies, Inc. "Our passionate customers will now have access to a massive selection of inspirational online and on-demand educational tools, which combined with our inventory of high-quality supplies and materials, will make it easier for customers and provide unlimited potential to unleash the maker in all of us."
Millions of creative enthusiasts from more than 180 countries enjoy direct access to world-class teachers via Craftsy's platform. Accessible across any device at any time, students can learn at their own pace by stopping and starting as needed, bookmark techniques for future reference, share projects with fellow students and even ask the instructor one-on-one questions. Plus, once a class is purchased, access is guaranteed for life. To complement the rich educational experience, Craftsy has a vibrant pattern marketplace plus exclusive yarn and quilting fabric product lines.