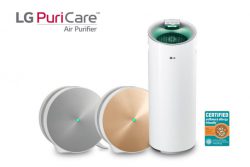 Just before the spring allergy season kicks in with sniffles, watery eyes and coughs across America, four air purifiers from the LG PuriCare™ and LG SIGNATURE product lines have earned the asthma & allergy friendly® certification from the Asthma and Allergy Foundation of America (AAFA), LG Electronics USA announced today. The AAFA certification means that LG air purifiers are scientifically proven to be better suited for the one out of five Americans with asthma and allergies.
AAFA created the asthma and allergy friendly® Certification Program to help consumers make informed purchase decisions when choosing allergen-avoidance products, independently testing each product in accredited laboratories and certifying those that are most suitable for asthma and allergy sufferers.
"Our team of health experts constantly evaluates products that truly make a difference for allergy and asthma sufferers," said AAFA Certification Program Director Michele Cassalia. "LG air purifiers rank among the best air purification systems we've tested and are proven to help improve indoor air quality while easing asthma and allergy symptoms."
All LG air purifiers use highly advanced and effective filtration systems to reduce air-bound allergens – including pet dander, pollen and mold spores – and deodorize the air consumers breathe. Operating as quietly as 20 decibels, each model features a highly effective three-stage filtration system: a washable pre-filter, micro particle filter and deodorizing filter to reduce unpleasant smells as well as volatile organic compounds like formaldehyde.
Because the purifiers are equipped with LG Smart Lighting, consumers are able to instantly check air quality with the Smart Indicator light, which delivers a real-time reading of indoor particulate levels in the home, emitting colors based on detected indoor particulate levels nearby.
"With spring just weeks away, AAFA-certified LG air purifiers can help users transition into new seasons and minimize allergen-related symptoms thanks to their advanced filtration, and are proven by the Asthma and Allergy Foundation of America to be better suited for the one out of five Americans with asthma and allergies," said David VanderWaal, vice president of marketing, LG Electronics USA. "Each model features a sleek, elegant aesthetic that complements many home décor styles, bridging premium design with demonstrably improved air quality."
The four new certified asthma and allergy friendly® LG air purifiers (three LG PuriCare models as well as the distinctive new LG SIGNATURE unit) are all ENERGY STAR® certified and offer advanced convenience and performance features:
LG SIGNATURE Air Purifier – Model AM501YWM1 ($1,699) is an all-in-one air purifier and humidifier which helps eliminate particles within a 318 sq. ft. radius. It features an innovative, semi-permanent filter system that can be washed and reused for up to 10 years. Through the Smart LED Indicator, this purifier allows users to see the air being cleaned through a transparent cover. As the indoor air quality improves, the display changes from red to blue. Products marketed under the ultra-premium LG SIGNATURE brand combine the best of LG's cutting-edge technology and world-class design with exquisite attention to detail for today's most discerning consumers. Coming soon.
LG PuriCare Tower – Model AS401WWA ($499) represents a fresh take on the traditional tower-style air purifier while reducing dust and other airborne particles in rooms up to 218 sq. ft. Its convenient top-mounted display panel features a smart color-coded air-quality indicator so consumers can easily and accurately check the quality of surrounding air, while adding a fresh and modern aesthetic to the room. Plus, the small footprint assures it fits into any sized living space, large or small – making fresh air more accessible than ever. Available now.
LG PuriCare Round Console – Available in brushed silver and gold finishes, models AS401VSA0 and AS401VGA1 (both $349) are elegant, sleek and powerful – offering excellent filtration with coverage of up to 248 sq. ft. These purifiers automatically detect airborne contaminants of 1.0 micron and smaller, and the three-stage PuriCare filtration captures airborne particles as small as .3um. Simple color-coded lights indicate current air quality and the smart inverter motor auto-adjusts fan speed appropriately, all with quiet LoDecibel™ operation. Available now.