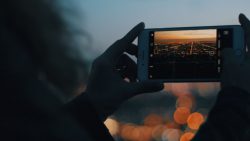 Caseology, a mobile accessory brand known for its beautifully-designed and functional portfolio of smartphone and smartwatch cases for various manufacturers, today announced its popular Parallax and Vault case lines have been redesigned for the LG G6, set to debut at Mobile World Congress. The latest lines boast thoughtful design elements, high-quality thermoplastic polyurethane (TPU) construction, and come in an array of colors to perfectly match an individuals' unique look and style. A highly-tailored blend of efficient protective features, aesthetic durability and competitive prices make the Parallax and Vault lines for the LG G6 must-have accessories for users serious about protecting their smartphone without sacrificing high-quality design.
"Caseology's principal focus is to create a harmony between smartphone, case and user by marrying thoughtful, attentive designs and meticulous details with efficient protection to stay relevant and help consumers safeguard their investment like LG's latest G6 smartphone," said KD Kwon, product designer for Caseology. "The new Parallax and Vault lines for the LG G6 have smart and subtle features, like geometric styling, that not only look great, but also help protect against accidental drops. As with all Caseology products, every detail is carefully planned and serves a functional purpose."
The Vault and Parallax lines for the LG G6 feature refined textures for excellent grip, seamless buttons for ultimate accessibility and reinforced corners with a raised lip for extra protection against drops. Each line boasts a distinctive look and feel that caters to an array of tastes and styles:
Vault Line ($21.99)—the slim yet extremely durable Vault line features a sophisticated build that embodies a minimalist aesthetic. The cases are laser-etched and feature a carbon fiber texture and TPU build, ensuring reliable protection for the LG G6 against unexpected slips, scratches and fingerprints. Cases are available in Black.
Parallax Line ($24.99)—the Parallax line is designed with a geometric pattern, creating a sense of movement and texture for the discerning eye. Flexible TPU sleeves and smooth polycarbonate bumpers provide excellent protection, while three-dimensional moldings and soft coatings provide a comfortable slip-proof grip. Cases are currently available in Black, with Cherry and Navy colorways available mid-March.