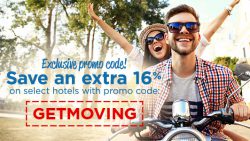 Everyone loves getting more than they expect. Whether it's the extra donut in a baker's dozen, a forgotten five-dollar bill in a jacket pocket, or maybe just that unexpected onion ring in the french fries, a little "something extra" is appreciated by virtually everyone. While most of these "happy accidents" aren't planned, when it comes to vacation travel – and a little help from the travel experts at CheapTickets – they can be.
While an amenity-filled five-star hotel is an indulgent experience, it may also be a budget buster, leaving less money for vacation activities. But for many travelers, the amenities that define a five-star hotel are not always must haves. In fact, a recent CheapTickets survey1 showed that almost three-quarters of respondents (73.3%) would choose a less expensive, but well appointed room over a more expensive option with all the bells and whistles. And current hotel trends suggest that travelers opting for a three or four-star hotel are giving up less than ever before.
"The fastest growing segment of the hotel industry is the "select service" property. Despite being categorized as a three or three and a half-star hotel based on offering fewer on-site amenities like restaurants, valet parking or room service, in order to stand apart from the crowd, these hotels are competing on the kinds of in-room amenities that would have only been found in much higher tier hotels just a few years ago," said Ramses Meijer, Director, CheapTickets. "High thread count sheets, designer rooms and upscale bath products are just some of the perks that are defining these new boutique inspired select service properties."
The experts at CheapTickets crunched the numbers, and found the six domestic markets with the most positively reviewed three and three and a half-star hotels2:
These stellar reviews put these properties within a mere three percent of four and four and a half-star hotels in the same markets. Yet on average, the price of a three or three and a half star room is over 30% less than that of a four or four and a half-star room3. Over a week, this could mean a savings of several hundred dollars – more than enough to cover the costs of eating out or even tickets to the hottest shows or sporting events.
"In today's on-demand economy, some of the amenities that define a four or five-star property can be achieved by leveraging popular online services. For example, while select service properties generally do not offer room service, the growing availability of restaurant delivery services makes it possible to order from a virtually unlimited menu from the comfort of your room," said Meijer. "Additionally, crowdsourced review sites, rideshare services, and even online event tickets like those available from CheapTickets can provide many of the recommendations and services of a traditional concierge."
GETMOVING: There's even more savings
Along with getting more than expected by booking the best room option, CheapTickets is offering savings of 16% on select hotels with promo code GETMOVING now through July 30th.4