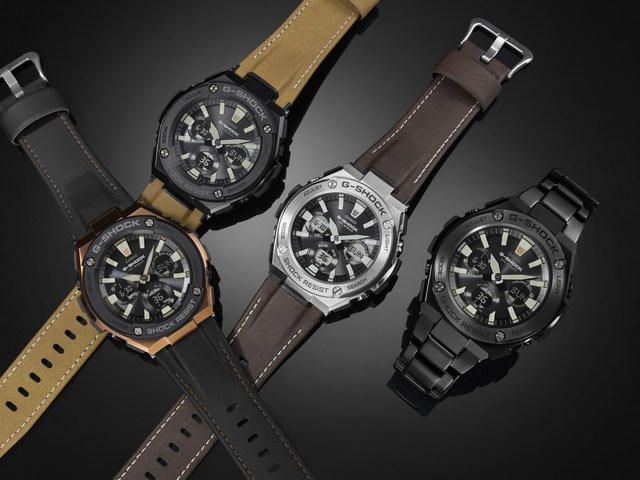 Today, Casio G-SHOCK announces the launch of the new Tough Leather band for its G-STEEL line, combining the classic look of leather with G-SHOCK level toughness for the first time in watch history. Debuting as part the new G-STEEL Street Vintage Style Collection in March 2017, Tough Leather is composed of a unique hybrid of synthetic leather and resin and is specially designed to withstand abrasions over time. The new watches complement the diversity of men's streetwear while staying true to G-SHOCK toughness. Three of the new four Street Vintage Style models feature the Tough Leather hybrid band – available in shades of dark brown (GSTS130L-1A), light brown (GSTS120L-1B) and black (GSTS120L-1A) – while the GSTS130BD-1A features a classic, black IP stainless steel band.
In line with G-SHOCK's principle of absolute toughness, the new Tough Leather has undergone rigorous testing. As compared to genuine leather, Tough Leather is able to withstand significant abrasion with minimal scratching or damage to the material as well as being water resistant. This new band allows for a comfortable and stylish look without the compromise of damaging a leather band.
script src="//z-na.amazon-adsystem.com/widgets/onejs?MarketPlace=US&adInstanceId=c47ab593-e1f9-4c30-90ef-a6259d62b349&storeId=digitaleditor">
Each of the Street Vintage Style models comes equipped with Tough Solar Power in addition to G-SHOCK technology, including Shock Resistance and 200M water resistance. For high-visibility in the dark, the watch employs a full-auto double LED Light, with a neon illuminator for the dial and a super illuminator for the digital display as well as Neo-brite Luminous Hands and markers. Adding to the watch's functionality are 48-city World Time, 5 daily alarms, 1/100th-second Stopwatch, countdown timer and 12/24hr formats, all in a 52.4mm case.
The GSTS130L-1A and GSTS120L-1B will retail for $300 at select department stores, while the GSTS120L-1A and the GSTS130BD-1A will retail for $300 and $450 respectively at select jewelers. The Street Vintage Style models will be available for purchase beginning in March 2017.