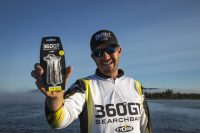 Stingy fish staying hidden? Tie on a search party. Throw 'em the Storm® 360GT Searchbait™, an ultra-versatile new bait the world's most respected professional anglers trust to deliver strike after strike in nearly any scenario.
"A searchbait is a lure designed to be retrieved horizontally, imparting fish-attracting action over a large area in which fish have many places to hide," explains legendary Freshwater Fishing Hall of Fame angler Al Lindner. "You basically cast and retrieve the bait to cover lots of water and when you find fish, it allows you to slow down your presentation to make the most of your opportunities. That's what fishing a searchbait is all about."
Once rigged, the Storm 360GT Searchbait didn't take long to earn a top shelf in Lindner's tackle box, proving its searching stripes and living up to the promise "GT" provides in its name.
"This is truly a 'Go To' bait," Lindner says. "This is the closest thing that I could think of to what you'd call a universal bait. Fish love it. Love it, love it!"

Expert and novice anglers alike will love it too.
"I'm always looking for a searchbait that I can throw out there that looks realistic and can cover a lot of water," says Jacob Wheeler, winner of FLW's 2012 championship tournament. "The 360GT Searchbait does just that with an amazing, lifelike action. It's crazy — this bait is in a league all its own."
1999 Bassmaster Classic Champ Davy Hite agrees.
"This swimbait will catch every fish that swims all over the world," says Hite, a two-time Bassmaster Angler of the Year.
Creating the ultimate illusion of natural movement, the 360GT Searchbait pairs a lifelike, single-ball rattling jig head with a realistic, phthalate-free soft body with 3D holographic eyes and a toe-in boot tail that elicits incredible action at any retrieve speed.
"The boot tail design does a couple things," Hite says. "First, it makes the bait vibrate — so the fish can feel it in the water. Second, its slim tail going to the boot makes the bait move side to side, just like a fish trying to propel through the water."
Additional features include:
An exclusive VMC® Coastal Black™ hook with an extended "leg" on the line-tie further enhances the bait's action.
A 60° hook angle on the jig ensures the bait swims in the perfect position, increasing angler's odds of a successful hook-up.
Entrance and exit holes clearly marked on the soft bait's body make it easy to rig correctly.
Ease of use will ensure this bait becomes the go-to choice for anglers of all skill levels.
"There's no need to make it pause and jump at things," Lindner says. "The idea is to cast it out and turn the reel handle — that's it."
Not only are 360GT Searchbaits affordable, but anglers don't need high-end rods and reels to catch fish with them. "Anybody can fish it with any type fishing equipment that you want to throw," Hite says. "You can fish this bait on spinning tackle, baitcasting, open-faced, closed-face…it really doesn't matter."
Just be sure to throw it in all directions until those stingy fish show themselves. "Basically, cast it in any direction — 360 degrees around where you're standing," says Storm 360GT Searchbait development lead Mark Fisher, explaining more inspiration for the bait's name.
According to Wheeler, the 360GT Searchbait should give him an advantage this season in the Bassmaster Elite Series, in which he will compete on diverse fisheries from Florida to New York.
"It's a bait that's going to work in many different applications and in many different situations," he says. "And that's something that makes it so unique. It's a bait that flat-out catches 'em, no matter what you're doing."
The 360GT Searchbait is available in 11 color patterns: Chartreuse Ice, Gaga, Herring, Houdini, Hot Olive, Marilyn, Pearl Ice, Smokin' Ghost, Smelt, Tru Blue and Volunteer. It's available in three sizes: 3-1/2 inches, 1/8 ounce; 4-1/2 inches, 1/4 ounce; 5-1/2 inches, 3/8 ounce. Each size comes in a handy package containing one pre-rigged bait and two extra bodies.
"This bait and jig head were all made to be one package — the perfect lure to catch everything that swims," Hite says. "When you're ready to cover more water and uncover more fish, tie on a Storm 360GT Searchbait and start searchin'. Throw it anywhere. Catch fish everywhere!"
Suggested retail pricing for the Storm 360GT Searchbait is as follows:
3-1/2 inch model: $4.99
4-1/2 inch model: $5.49
5-1/2 inch model: $5.99