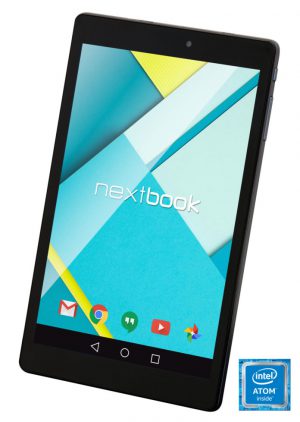 In case you haven't received your on-line reminder yet from your e-card company of choice, Valentine's Day is next week. Yes, once again, it's time for young lovers, millennial-aged lovers, middle-aged lovers, and the never-too-old-to-love lovers to express their feelings for their heart's numero uno.
It's a great day for florists; purveyors of sweets; jewelry, card, and liquor stores; and dining establishments, as these items seems to be on most everyone's go-to-gift-giving list.
But seriously, shouldn't a gift to that r-e-a-l-l-y special individual in your life be backed with a little more than a smidgen of thought? Couldn't it have at least an ounce or two of creativity? Is it socially or morally wrong to give a unique gift? Must it scream, "Me too!!!"?
No, it mustn't.
E FUN has just the gift for you to give: its Nextbook Ares 8 eight-inch Android tablet. Says company managing director and VP of sales Jason Liszewski: "It is truly a gift that will keep on giving and evolving. Plus, it could just be the most reasonably priced gift a Valentine's Day gift giver has purchased in a long time."
The receiver (a.k.a your significant other) will instantly recognize how creative you were and how you put some thought into purchasing it. They will appreciate its uniqueness. And in all likelihood, they will scream, "You love me. You really love me!" Or if they are more reticent about showing their feelings, they will just think that instead of screaming it.
The Nextbook Ares 8 is an out-and-out entertainment machine. In addition to its Android music player, it comes with an array of preloaded apps, such as the Barnes and Noble NOOK for Android; the VUDU Movies and TV app that provides instant access to new film releases, Hollywood classics, and must-see TV shows; as well as Cloudlink and Flixster apps.
The Google Play Store app allows both the receiver and giver to personalize it even further, as it offers a myriad of apps, movies, music, books, and more, including all of the popular social networks as well as the latest video games (made even more exciting with the Ares 8's 3-axis G-sensor).
At less than two pounds, the lightweight Ares 8 is the perfect size to be taken along on a romantic rendezvous. Its built-in Wi-Fi and Bluetooth capability allows easy access to the Internet from just about anywhere. With 16GB of internal memory and additional storage via a microUSB port and an up to 64GB-capacity microSD slot, that special someone will have plenty of room to store and have easy access to all of the treasured photos and videos of the two of you. Speaking of which, the Ares 8 features front and rear-facing cameras, so you can capture more of those unforgettable moments.
The unit has an 8-inch screen with 16:10 aspect ratio, 800 x 1280 resolution, and IPS technology enabling the both of you to watch crisp, sharp HD content, whether streamed or connected from another device through its micro-HDMI port. The touch-enabled screen offers accurate and smooth operation.
For speed and performance, the Ares 8 has a quad-core Intel® Atom™ processor that lets users play games or stream videos smoothly and quickly. It comes with the Android 5.1 Lollipop OS, allowing better multitasking and smoother processing.
The Nextbook Ares 8 is available at nearly 3,800 Walmart locations across the country and through Walmart.com.