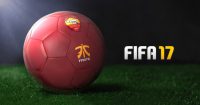 Fnatic, the leading organisation in esports, announced today its partnership with Italian football club, AS Roma, to introduce the club's first professional team to FIFA's growing esports league. This joint venture combines Roma's rich footballing legacy and global fan base with Fnatic's esports-related knowledge and expertise to further solidify Roma'spresence in esports. The roster for the AS Roma FIFA team powered by Fnatic includes Sam "Poacher" Carmody, Aman "Aman" Seddiqi and Nicoló "Insa" Mirra with Manager Colin Johnson.
"FIFA's entry into the world of esports has received the attention of many organisations both from established football clubs and esports organisations," said Wouter Sleijffers, CEO of Fnatic. "Fnatic is excited to enter this rising esports game with AS Roma, one of the most iconic clubs in football with a long and successful history."
Through this collaboration, players will represent Roma in the upcoming FIFA tournaments. Fnatic will manage the team and offer support for training, events and provide all esports-related logistical knowledge to nurture them.
"As one of the most digitally-connected sports teams in the world, we've strived to create an organisation at Roma that engages our fans through all digital channels," said Jim Pallotta, President of AS Roma. "With the tremendous growth of eSports and continued attention placed on games like FIFA, we've partnered with Fnatic, the world's leading eSports organisation, to launch our eSports team. This joint venture will enable us to start building a strong legacy in eSports and engage our fans in exciting new ways."
"We're thrilled and honoured to work alongside AS Roma by helping the club take its first steps into a new, digital chapter in its rich and storied legacy," continued Sleijffers. "Whether on the grass or in-game, we share the same ambition: be among the top in the world."