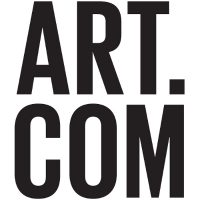 To help people easily incorporate the latest color trends into their homes, Art.com, the world's leading online retailer of wall art and décor, today unveiled an expansive collection of items inspired by Pantone's Color of the Year, "Greenery." A striking departure from the calming and muted tones of last year's Serenity and Rose Quartz, Greenery is a vibrant yellow-green shade that symbolizes positive energy, new beginnings, and vitality, adding instant pop to interior decor.
"Reminiscent of the lushness of the great outdoors, Greenery is bold, vivacious, and the perfect shade to update your home in time for spring," said Linda Crisolo, design expert and Merchandising Director at Art.com. "We've curated an affordable collection featuring over 100 wall-art and décor items that bring this fresh and inviting color trend to life."
Whether you're aiming to go bold by refreshing an entire room, or taking a subtler approach with understated accents, Crisolo offers five easy tips to incorporate Greenery into any home:
Start With Subtle Accents – If an understated approach is more your style, try switching out pillows, vases, or smaller accent furniture. Home accessories are a low-commitment way to incorporate trends like Greenery into your home, especially if you make updates on a seasonal basis. Opt for simple designs and shapes, like a Dip Dyed Down Fill Pillow ($61.85), glass Adisa Vase ($72.55), and Waverly Ceramic Stool ($93.65).
Bring The Outdoors In – Since the Greenery trend is all about playing up lush foliage, bring the outdoors in with vibrant faux succulents, like an eye-catching Burgundy Succulent Garden ($239.95). Hanging gardens are sure to be the centerpiece of any room—particularly the dining area—and can double as an unexpected headboard in the bedroom. Limited on wall space? Art.com also offers a mini version that measures 16″ x 16″.
Try A New Take On Textures – Bring depth to a room by experimenting with unexpected textures. A Greenery-inspired Low Tide Tapestry ($64.05) can add a laid-back, bohemian feel to the bedroom or a reading nook, while a Chelsea Loop Poly Fill Pillow ($39.65) makes for a plush accent in the living room.
Travel To The Tropics – Tropical prints, like bold banana leaf and lush palm trees, can enhance any living space with exotic flair, but incorporate them sparingly to avoid a jungle of clashing elements. Good choices are a Havana Tropical Wall Triptych ($679.95) or Ophelia Container ($147.55).
Upgrade with an Accent Wall – Want to make a big statement but short on time? An accent wall is a quick, effective way to transform a living space. Ditch messy paints and opt for a dynamic self-adhesive wallpaper, like a Forest Ocean Gold design ($98.05). Added bonus? It's easy to install and remove, so you can update a room from season to season.
Whether you're making small updates or ready for a complete home makeover, Art.com's vast selection of ready-to-hang art and modern décor makes incorporating the Greenery trend into your home effortless and easy. With the ability to sort by product type, subject, style, and price, there's truly something for everyone. To explore the full collection of Greenery-inspired items on Art.com, click here.