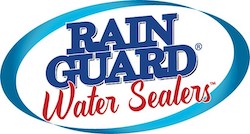 Quick Facts
Rainguard® Surface Sealers Offer Customers Industry Leading Water Repellent/Barrier Offerings With Completely Non-Toxic, Scientifically-Advanced and Superior Performing Solutions Long-Trusted By Architecture/Contractor Professionals
Other Water Sealers on the Market Are Toxic and Pose Threats to Families, Pets and Workers
Lineup Includes Concrete, Stone, Paver, Paint, Gloss and More Sealers
Now Available Online at Amazon.com
Rainguard®  – the global leader in non-toxic and scientifically-advanced surface protection solutions for home, architecture, commercial and building contractor challenges – now has its line of multi-surface sealer solutions available for immediate ordering on Amazon for customers across the nation.
Amazon is now offering the industry's first-ever line of non-toxic surface sealer, long-trusted for its superior performance in the most mission-critical applications across the architecture and building contractor worlds.
Rainguard sealers are immediately available on Amazon.com – offering one-of-a-kind protection for concrete, wood, brick, stone and other surfaces.
The full lineup of products includes Concrete Sealer, Brick Sealer, Wood Sealer, Stone Sealer, Paver Sealer, Paint Sealer, Gloss Sealer and more.
All Rainguard solutions last longer and are more concentrated than competing products in the market – delivering unrivaled value for consumers.
"We're excited to be able to offer the industry's first truly non-toxic, superior performing and industrial-grade surface protection solutions for one of the largest retail marketplaces on the planet," said Claude Florent, president of Rainguard Water Sealers. "There are so many options for shoppers out there, but no other line of sealers perform with patented chemistry that's unmatched in bonding to surfaces and blocking out all unwanted substances, yet without containing toxic acids and other harmful substances that our competitors put out onto the market. Amazon customers can have peace of mind that they're getting solutions that have been trusted by the most demanding contractors, yet guard the safety of people, pets and the planet as a top priority."