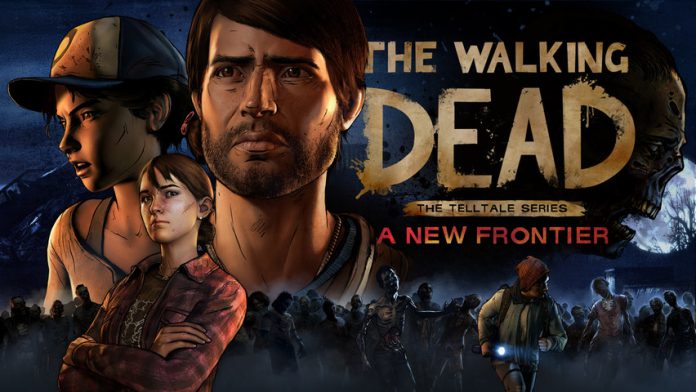 Leading publisher of digital entertainment Telltale Games and Robert Kirkman's Skybound Entertainment announced today that The Walking Dead: The Telltale Series – A New Frontier Episode One: 'Ties That Bind' Part I & Episode Two: 'Ties That Bind' Part II are now available for download.
These first two of five episodes in The Walking Dead: The Telltale Series – A New Frontier are available starting today on PC from the Telltale Online Store, Steam, and other digital distribution services, on the Xbox Games Store for Xbox One®, and on the PlayStation®Network for PlayStation 4. The episode will also be available this week for compatible iOS devices via the App Store, and for compatible Android-based devices via Google Play. Release dates for additional platforms will be announced in the near future.
When family is all you have left… how far will you go to protect it? Years after society was ripped apart by undead hands, pockets of civilization emerge from the chaos. But at what cost? Can the living be trusted on this new frontier? As Javier, a young man determined to protect his family, you meet a young girl who has experienced her own unimaginable loss. Her name is Clementine, and your fates are bound together in a story where every choice you make could be your last.
"We're starting this dramatic new entry point to the series in a way that will surprise and intrigue existing players and newcomers alike, and there is no better way to do that than with an epic two-part premiere," said Kevin Bruner, CEO and Co-Founder of Telltale Games. "We hope that all fans of The Walking Dead can enjoy this introduction to new player character Javier and his family, and that those already familiar with Clementine will be as excited as we are to see her mysterious return."
In their review of the premiere, IGN.com said that "Smart characterization and writing for Javi and his family, plus the return of Clementine, add weight to a largely unfamiliar but already engaging new frontier that I can't wait to continue to explore," adding that its "uncharted territory feels familiar and, excitingly, fresh." GamesRadar said that A New Frontier"demonstrates the resonant power of interactive storytelling," and that it "finds the right balance between rewarding longtime players who've shaped their own version of the story and welcoming those who might be hopping aboard this grim adventure for the first time." Game Informer said the two-part premiere has "shocking deaths, intense betrayals, and split-second decisions to second-guess," claiming that "Everything leads up to a hell of a cliffhanger, making me intrigued to see what happens next."
Beginning in February, the series will also be available for purchase on a special 'Season Pass Disc' for PlayStation 4 and Xbox One consoles, which will include the premiere episodes for the third season, as well as access to all subsequent episodes in the five episode season for download as they become available.