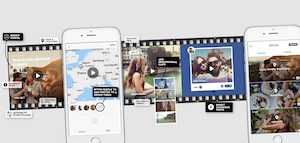 Storyo, creators of story driven, collaborative photo memory apps, today announced the launch of the Storyo 2.0 app for iOS devices. The app is designed to automatically create rich and stunning "lifestories" drawn from users' camera rolls and other data in only 3 to 4 taps. Best of all, families and friends together can now pitch in their photos of special moments to jointly create one instant lifestory video for everyone. Storyo is available in the iTunes store for download.
According to a study by market research firm InfoTrends, smartphone users are predicted to take 1.3 trillion photos on their devices by 2017. Yet most photo sharing apps do little more than allow us to tag or sort individual shots in static galleries. Even worse, most people are in danger of drowning in a sea of snapshots. The great irony is that for many people, the more photos we have, the more we miss the real life stories behind each of them. Until now, there's been no way to immediately create something together out of all these photos.
Storyo 2.0 helps make sense of the clutter of snapshots and galleries on our smartphones by creating lifestory vignettes that showcase the rich details of our lives. Drawing additional elements from social media, weather, and people, the app automatically curates photos into short narratives that bring detail, context and flow.
"Storyo is unlike any other photo app on the market due to its rich storytelling but ease of use," said Filipe Vasconcellos, CEO of Storyo. "Storyo 2.0 takes the puzzle pieces that make up our lives–random selfies or a series of photos–and organizes them with context to create rich lifestories that other apps simply can't convey. Now, creating lifestories can be done with friends as they all pitch in together."
Collaborating to Make Group Video Memories
One of Storyo's most unique features is the ability to create group video memories. Surround the story of your life with a cast of your dearest family and friends. Storyo 2.0 can help gather everyone's photos from a specific timeframe to create shared group video memories, unlocking rich detail and a layered story beyond what's simply in your photo gallery. Tell the story of your last family picnic from the salad being prepped in your mom's kitchen to your brothers setting up for an epic game of flag football. Edit, share, and enjoy your story from every perspective, drawn from the memories of everyone who make these moments so special.
Putting the Narrative Back Into the Moments
Storyo 2.0 brings the art of storytelling back into your photo gallery. Using a patent-pending proprietary algorithm and artificial intelligence, Storyo automatically curates and creates complete cinematic lifestories in 15, 30, or 60 second clips. Storyo isn't about just sharing a picture; it's about sharing your life in motion. Simply choose a period in your camera roll, and Storyo's advanced algorithm creates chapters using the best photos. Then Storyo automatically gathers information from Facebook, weather, time and location to weave a unique video tapestry rich in detail, with a complete narrative no other photo app can achieve. Punch it up with access to a curated collection of over 100,000 high quality professional videos from Shutterstock, the leader in stunning content.
Automatic Lifestory Creations
Storyo can also be set to auto-curate a collection of stories from your timeline. Every time you open the app, you'll be greeted by suggested video lifestories based on the photos in your camera roll. Revel in each tale, each milestone, and each little surprise. It's like watching a new episode of your life every time. No other app or app feature on the market – Snapchat, Instagram Stories, Apple memories, Google Smart Albums – can match the power and simplicity of Storyo.