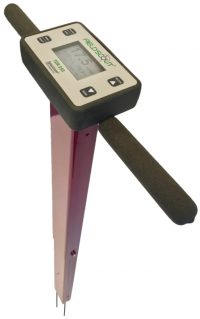 Spectrum Technologies, Inc., has announced the launch of the FieldScout TDR 350, the next generation to the TDR 300 series.
The new enhancements to the TDR 350 include EC (Electrical Conductivity) measurement, turf surface temperature measurement, an improved backlit display, integrated Bluetooth, and internal GPS; in addition to offering the proven time-domain measurement technology that turf professionals have come to trust in the FieldScout TDR brand.
"The portable TDR Soil Moisture Meter has been the industry standard for site-specific soil moisture measurements," says Mike Thurow, President & CEO. "With this enhanced TDR 350 technology package, superintendents will realize even greater efficiency and labor savings in irrigation management."
With integrated Bluetooth and internal GPS, no additional components are necessary for GPS and Bluetooth connectivity. The large capacity data logger can record approximately 50,000 measurements with GPS coordinates. Data records can be saved to USB stick, or via Bluetooth connection to smartphones or tablets with SpecConnect FieldScout Pro.
The TDR 350 has an industry exclusive larger backlit LCD display that provides optimal contrasts for low and high light viewing, and larger digits for easier viewing of measurements.
Spectrum Technologies provides the agriculture, golf, and sports turf market the ability to turn plant measurements into information for profitable decisions with technologies including weather and environmental monitoring, nutrient management tools, Integrated Pest Management (IPM) tools and soil moisture and quality measurement tools.