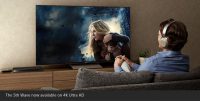 Sony Electronics announced pricing and availability details today on its UBP-X800 4K Ultra HD Blu-ray Player. Available for pre-sale today for a MSRP of $299.99 from Amazon, Best Buy and other authorized dealers nationwide. UBP-X800 4K Ultra HD Blu-ray Player will be available in stores in March 2017.
Sony's first 4K Ultra HD Blu-ray player allows customers to experience the full breadth of what Sony's 4K ecosystem has to offer. The UBP-X800 Player is compatible with Ultra HD Blu-ray as well as video streaming in 4K resolution and High Dynamic Range (HDR), for greater detail, brightness and contrast that fully captures the movie, TV show, or game as it was meant to be seen and heard. The UBP-X800 provides Ultra HD Blu-ray playback with wide color space BT2020, it has twice the color range of existing conventional Blu-ray players and HDR (High Dynamic Range), and up to 100 times dynamic range to enjoy realistic picture quality like never before. The UBP-X800 is also a great match to Dolby Atmos® and DTS:X™ audio compatible receivers, for the most immersive home theater experience possible.
As an exciting exclusive offer, now through June 30, 2017 purchasers of a UBP-X800 are eligible to receive two 4K Ultra HD discs from Sony Pictures Home Entertainment, including recently released titles such as Inferno and The Shallows, up to a $50 value.
In addition to support for Ultra HD Blu-ray the UBP-X800 utilizes a Sony developed Precision HD drive to help maintain consistent performance with virtually every optical disc format, including DVD Video and DVD Audio; CD and Super Audio CD; and Blu-ray 3D, and BD-ROM media in additional to almost any format available via USB. The UBP-X800's specially designed Frame and Beam (FB) chassis increases structural rigidity and its honeycomb top plate, sf heat sync and offset insulator feet reduce the effects of airborne and mechanical vibration. This high quality construction contributes to Hi-Res Audio sound reproduction which can playback up to 192kHz/24-bit and DSD 11.2MHz (future firmware update required.) For standard resolution music DSEE HX™ upscales the original signal's sampling frequency and bit-depth. With the UBP-X800 integrated Bluetooth® it is possible to listen to wireless headphones while the sound can continue to play from the TV or sound bar for the rest of the family in the room to enjoy, great for those that need a higher volume or simply don't want to be interrupted.
The player further incorporates a variety of video codecs that can deliver 4K streaming from video streaming services such as Netflix1, along with Sony's advanced video processing that upscales standard dynamic range and HD content to near 4K resolution. Additionally, when playing 4K HDR content on a 4K SDR television the UBP-X800 utilizes a unique Sony algorithm that you can adjust to reproduce the proper brightness and color gradations to provide the best picture possible.