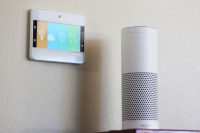 NuBryte showcased its award-winning all-in-one smart home solution and unveiled a brand-new integration with Amazon Alexa at CES 2017. Teaming up with the Amazon team, NuBryte is pleased to announce that homeowners can now use easy voice commands to control NuBryte features.
Getting ready for movie night and want to dim the lights? Easy. "Alexa, dim the Living Room lights by 50%." Do your kids always leave the lights on? Group your kids' bedroom lights and turn them off together. With the new Alexa integration, homeowners can ask Alexa to control their NuBryte lighting – no special light bulbs needed!

Connecting an Alexa device with NuBryte is easy. NuBryte users can begin using Alexa by enabling the NuBryte skill in the Alexa app for instant access to voice controlled lighting. NuBryte voice activation is available now for the Amazon Echo, Echo Dot, Amazon Tap and all Alexa Devices.
NuBryte Touchpoint offers home security, touch-free lighting, intercom and family hub – all built into the light switch! It offers home control without gadget clutter, from the touch screen console or remotely with the NuBryte App on Android and iOS.
"Voice control with Amazon Alexa offers homeowners even more control over their NuBryte Smart Home system, providing a whole new level of convenience. Alexa devices are extremely popular, and we're excited to continue introducing more new Alexa capabilities over the next few months," says Steven Gutteridge, NuBryte VP of Product Development.
NuBryte recently announced its partnership with Google Calendar, which links Google Calendar with the NuBryte Family Calendar, and will continue to make additional announcements throughout 2017, further solidifying NuBryte as the center of whole-home control.