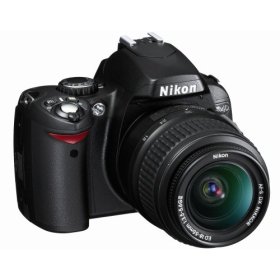 The Nikon D40 with 6.1mega pixel is an affordable and easy to use model with rubber grip. It is small and light weight. The top of the camera surface hosts the mode dial for selecting shooting modes, as well as various buttons for exposure and information display. The Nikon D40 produces impressive image quality that is true to life. It is powered with an AF assist lamp and noise reduction features. Red eye correction is automatic and the image data is nicely laid out on the LCD screen. The 2.5-inch LCD screen is brightly lit and easy to read in direct sunlight. It flashes a detailed layout of current camera settings and is easy to toggle on and off by pressing the Info button, which is located behind the shutter button.
The built in help menus and graphical interface are done in great detail and guides the user along the various features well. The continuous shooting modes are a great advantage with this camera.
However, there is no auto focus motor in camera body and no depth of field preview. The 6.1 mega pixel size arrests the print size and cropping potential of the images. There is no instant preview of images snapped on the LCD display. The Nikon D40 has no image stabilization features integrated with its software. There is no inbuilt top mounted status display and relatively low pixel count than other competitive products in the same range.
There is no toggle button to move between the auto focus and manual focus mode or changing the quality and ISO settings. It offers only limited backward lens compatibility for auto focus. The control interface looks great but is rather difficult to operate. The bundled software does not permit the RAW image manipulation. There are also problems of purple fringing reported with kit lens. The automatic white balance may fair poorly in artificial lighting.
The Nikon D40 is decently priced, durable and lightweight and bridges the gap between amateur and professional photography.

Product Description
The Nikon D40 is an interchangeable-lens digital SLR that unites the brilliant performance of world-famous Nikkor lenses and the practicality of a remarkably small and light camera body. It boasts handling and performance advantages that do away with the frustrations often associated with compact digital cameras, making it ideal for anyone who wants to capture spectacular digital pictures without fuss or complication. Thanks to Nikon's world beating digital and optical technologies, the D40 makes it amazingly simple to capture beautiful pictures in almost any situation. The D40 opens up the fun, excitement, and superior image quality of digital SLR photography to everyone. Its compact size and ideal ergonomics make it the digital SLR solution for pictures anytime, anywhere. Its bright and sharp viewfinder with 0.8x magnification ensures precise composition. After shooting, the camera's large 2.5-inch high-resolution color LCD monitor provides a clear view for checking sharpness, exposure, and focus by enlarging the picture up to 19 times.
Building on Nikon's reputation for making the finest digital SLR cameras, the compact D40 offers mobility, easy operation and beautiful pictures to even first-time digital SLR users, making it ideal for anyone ready to experience the difference of Nikon digital SLR photography.
Technical Details
6.1-megapixel CCD captures enough detail for photo-quality 14 x 19-inch prints
Kit includes 3x 18-55mm f3.5-5.6G ED II AF-S DX Zoom-Nikkor lens
2.5-inch LCD with three display options; built-in flash and hot shoe
Fast startup with instant shutter response; shoot at up to 2.5 frames per second
Powered by one rechargeable Li-ion battery EN-EL9 (included); stores images on SD memory cards