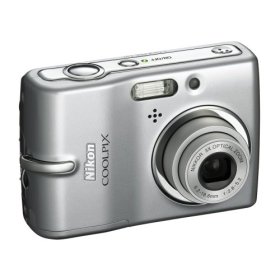 The Nikon Coolpix L10 is an elegant looking silver metal body compact camera with a sturdy design and lot of advanced automatic features that help in improving the image quality and delivers the best of pictures. It provides crisp, clear, beautiful images in auto mode. But, it also allows the users manual control and versatility with the preset modes and the manual modes. For a pocket camera, the functions of this coolpix can be easily accessed by the buttons or dials laid out on the panel.
It has full manual controls and noise levels are very good for a 5 MP camera. It performs well in poor light conditions too. There's a programmable function button that gives the users a short cut to the screen that has presets of most to the situations that they would be shooting in.
Besides, they're a considerable amount of improvement in the shutter speed too. The photographers can now look forward to simultaneous shots with little or no time lapse. There are some extremely handy and cool features bundled with the coolpix that well justify its name. They include audio voice recorder and subsequent playback with built in speaker, the best shot selector feature that selects the sharpest image automatically from a series of images, auto image rotation for portrait and landscape picture display on the 2 LCD screen and the in camera cropping feature that lets the users crop part of the images.
However, there are some performance lags observed with coolpix L10 including the small aperture that can cause more of image blurriness, the auto white balance that sometimes work, sometimes not, the noise at high ISO settings and the average to poor visual quality in the movie mode especially in low light. The portability, image quality, add-on lenses, shoe for a speed light flash, price, are best of Nikon quality and render this camera a great choice for someone looking for the most versatile small digital camera that they can desire of.

Product Description
The CoolPix L10 high light sensitivity up to 800 allows you to tackle low-light scenes and situations far beyond the capabilities of conventional compact cameras. The CoolPix L10 has a large 2.0-inch LCD, perfect for viewing and sharing images. You can shoot sharper, clearer and without blur with Nikon's ingenious Vibration Reduction. Detects and corrects for camera movement to give you rock-steady results time after time.
The CoolPix L10 features 15 specially programmed modes to automatically handle focus, exposure, white balance and other adjustments that help you take great pictures easily. To ensure superb portraits with crisp focus, select Face priority AF (in Portrait Scene Mode).
This feature automatically finds the subject's face and focuses on it. In-Camera Red-Eye Fix This in-camera feature automatically fixes most typical occurrences of red-eye. ISO sensitivity – Approximately equivalent to ISO 64 (auto gain to ISO 800) System Requirements – Macintosh Mac OS X version 10.3.9, 10.4.x, Windows Vista (32bit), Windows XP Home Edition & Professional and Windows 2000 Professional Dimensions – Width 3.5 x Height 2.4 x Depth 1.0 inch (89.5 x 60.5 x 26mm) excluding projections Weight – 4.1 ounces (115 grams) without battery and SD memory card
Technical Detail
5.1-megapixel CCD captures enough detail for photo-quality 13 x 17-inch prints
3x optical zoom; 2.0-inch Super Bright LCD display
Face Priority AF automatically focuses on the face of your subject
D-Lighting improves brightness and detail where needed
Powered by 2 AA-size batteries; stores images on SD memory cards