Magellan's Maestro 3100 is a simple yet sophisticated GPS navigational device that's not too high priced for what you get. It has a graphical 3.5 inch touch screen interface that's intuitive and easy to read, even in direct sunlight.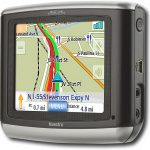 There's really no learning curve with this one. It comes ready to use straight from the box, and you can have it up an going within minutes. The preloaded maps for the 48 contiguous United States are updated with NAVTEQ mapping data.
Your directions are show in 2D or 3D display. There is a current location finder, and re-routing is fast, in case you take a wrong turn, so you'll be back on your way within seconds. Voice prompts for turn by turn directions are clear and precise.
The Points of Interest database holds only 750,000 POI. That's a small number compared to some more expensive units, but a good database, none the less. You can also store your own personal points of interest for reoccurring trips.

The SiRFstarIII chipset and integrated multidirectional antennae make locking into a satellite connection almost instantaneous. Even indoors the Maestro 3100 is capable of finding a signal. And the rerouting, in case of a wrong turn, is within seconds. You can set custom settings to re-navigate you around traffic delays or detours.
It's small and portable, so it's easy to move from one vehicle to another. The weight of only 6.5 ounces is great for portability. Small enough to fit inside your shirt pocket at 4.29 inches x 1.14 inches by 3.48 inches. It's a good choice in terms of a portable, personal device.
Of course, being a smaller and less expensive device, the 3100 does not come with Bluetooth technology, which is fairly standard in GPS now. Still, with the features that it is packed with, it is still a good navigational system for the money. Also, there is no AC adapter included, so you have to charge it in the car. This may or may not be a glitch, depending on whether or not you want to shell out extra cash for an AC adapter. And the battery life is low, so you would need to charge it fairly often.
Magellan does have more expensive units that work as well, if not better than the Maestro 3100. Whether or not you would be happy with this one would depend on how much technology you like. If you are satisfied without all the bells and whistles, it is a much less expensive unit than ones with the extras like Bluetooth, MP3 players, etc. If all you really want is a reliable GPS device to get you from one spot to another, then the Maestro 3100 is that, and a little bit more.
Learn More
Magellan® Maestro™ 3100 offers simple, sophisticated GPS navigation that's remarkably affordable. The most intuitive graphical 3.5″ touch-screen interface available makes navigation easy. Enter virtually any destination and get turn-by-turn voice guidance to locations all over the contiguous United States. Smart touch-icons and Magellan's unique QuickSpell™ function enable error-free spelling, minimizing steps, so you get a customized route to your destination with just a few touches of the screen. Hundreds of thousands of preprogrammed points of interest make it easy to find restaurants, gas stations, ATM and more.
Choose the 2D or 3D view and see your location, route, direction, next turn, destination and more. SmartDetour™ will help you find your way out of traffic jams or stopped freeway traffic.
Maestro is designed for those who enjoy precision technology with style! It has been created by Magellan; the first name in navigation™, and built on years of experience providing the best in GPS navigation and feedback from the millions of users of the Magellan RoadMate and Hertz NeverLost® systems.
Features
Sophisticated and simple – Bold, streamlined touch-screen buttons minimize steps to locate a destination for stress-free navigation
Turn-by-turn voice and visual guidance – Enter virtually any address or point of interest and get there quickly and safely
Precision navigation – SiRFstarIII chipset and integrated multidirectional antennae offer superior GPS accuracy using the Wide Area Augmentation System
Graphical interactive maps – Maps and destinations for the 48 contiguous United States (Alaska or Hawaii not included) are built-in so you can travel the country and always know where you are and where you're going
Birds eye 3D view – Clearly see your surroundings in 3D or 2D
Rechargeable battery – Navigate while driving without plugging the cigarette lighter adapter in
SmartDetour – Customize the settings to automatically route you around sudden slow freeway traffic
Auto Re-route – Never miss a turn and quickly get back on track whenever you take a detour
Auto night view – Adjusts color and contrast for easy night viewing
QuickSpell™ – Easily enter addresses with unique auto-complete feature that even corrects spelling
Complete mobility – Transfer to any vehicle with no installation
750 thousand points of interest (POI) – Easily find gas stations, restaurants, ATMs, airports, parks and more with smart location search by name, category and region
Interactive POI icons – Touch an onscreen icon for a nearby destination; see phone number and get an instant route
Customizable route method – Shortest time, shortest distance, least use or most use of freeways, avoid toll roads
Route exclusion – Select streets and freeways to avoid so you can get there on the streets, roads and highways that you prefer
4 helpful views – Map View, 3D map, TrueView™™ 3D split screen and Maneuver List
Address Book – Create and store personal points of interest for easy reoccurring trips
Instant locate – One touch shows your location; quickly advise roadside assistance or emergency services
Optional AC adaptor – Available for purchase at select dealers and at magellanGPS.com