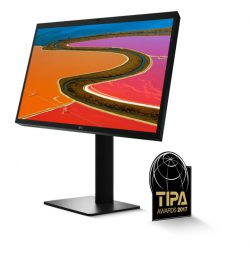 The new 27-inch LG UltraFineTM 5K display (27MD5KA) from LG Electronics has been named this year's "Best Photo Monitor" by the Technical Image Press Association (TIPA). Perfect for creating an integrated work space in the home or the office, the LG UltraFine 5K display – complete with all the newest ports – is unrivaled for new MacBook Pro users who demand high-quality resolution at all times.
The LG UltraFine 5K display, the only monitor to receive a coveted 2017 TIPA Award, earned high praise in large part because it provides superior 5K image rendering (5,120 x 2,880 pixels), along with the capability to work seamlessly at lower resolutions. With impressive 5K picture quality, a pixel density of 218 PPI (pixels-per-inch) and enhanced brightness levels, the monitor is the ideal interface for video editors and other creative professionals who use Apple's line of Mac computers with Thunderbolt 3. The LG UltraFine display covers 99 percent of the DCI-P3 color space and also implements the company's advanced IPS (In-plane switching) display technology, which minimizes color shift and color loss from any viewing angle, ensuring that users see the content exactly as it was envisioned by the original creators.
LG's award-winning 5K monitor is the world's first 5K display capable of high-capacity 5K data transmission through a single Thunderbolt 3 cable. The LG UltraFine monitor's Thunderbolt 3 port not only allows for high volume data transfers and simultaneous charging, but it also eliminates clutter and streamlines any workspace. The LG UltraFine 5K display also has three downstream USB Type-C™ ports and an integrated webcam, enabling high-quality video calls through FaceTime and other video chat services. High fidelity integrated speakers enhanced by LG's Rich Bass feature complete the multimedia experience, while a height and tilt-adjustable stand maximizes user comfort.
TIPA, considered the world's most influential photographic and imaging press association, consists of 27 leading photo and imaging magazines from the United States, Canada and 13 other countries on five continents. The TIPA Awards are among the most respected and influential photo and imaging product awards in the world. All products that bear the TIPA Awards logo have undergone rigorous testing by TIPA's technical committee and magazine editors.